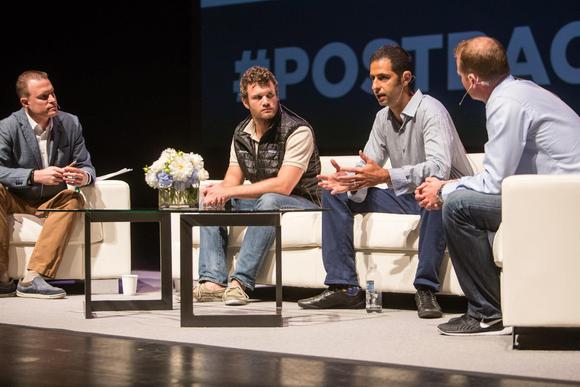 Here's a quick recap of the mobile marketing panels from #Postback15 day two:
Session: Mobile Re-engagement
Speakers:
Matt Collins, Ampush, VP of Marketing
David Philippson, Criteo, Managing Director – Mobile Solutions
Brian Malkerson, Twitter, App Re-engagement Sales Lead
Adam Foroughi, AppLovin, CEO
At a glance: Experts weighed in on the trends and challenges of re-engagement and the critical role third-party analytics providers play in providing data and creating transparency.
Quotable
"The [re-engagement] market is still really new and a lot of app developers still care about finding the new customer." – Adam Foroughi

"Data is fuel. It's what we need for our retargeting recommendations." – David Philippson

"We need analytics across all channels (mobile web and apps) so we can analyze the true campaign ROI." – Adam Foroughi

"One of the challenges of retargeting is just being able to get the proper data." – Brian Malkerson

"Have a consistent re-attribution method, and be consistent and transparent." – David Philippson

"My view is that the source of truth should be third-party analytics providers." – David Philippson
Key takeaways: Despite high uninstall rates, mobile re-engagement has had a surprisingly low adoption. Re-engagement campaigns need to have a seamless user experience (think deeplinking) and tailored creative. Desktop and mobile users are not the same, and it's essential to understand the differences. As long as the ROI is there, there shouldn't be a threshold on ad spend.
---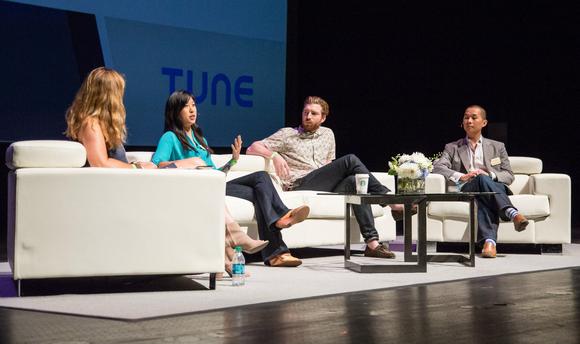 Session: Mobile Analytics
Speakers:
Lauren Moores, Dstillery, VP Strategy
Vivian Chang, RetailMeNot, Sr. Manager, Acquisition Marketing
Christian Calderon, Dots, Head of Marketing
Bill Kang, Supercell, Marketing Analytics Lead
At a glance: Panelists discussed the importance of identifying meaningful KPIs, the challenges of too much data, and the role intuition plays in decision making.
Quotable
"Analytics is really it's own beast and it has to have it's own strategic vision." – Bill Kang

"Our challenge is that we have too much data, and really it's about getting smart about creativing hypotheses to test." – Vivian Chang

"There's a sizeable amount of intuition that ends up factoring into our decisions." – Bill Kang

"As a startup, we have to find the KPIs that mean the most to us and run our business off of those." – Christian Calderon

"For us, the biggest challenge is teasing out a unified single narrative from all the data." – Bill Kang
Key takeaways: Despite the substantial insight data provides, analysts still need to make inferences to tell the story. Identifying the KPIs that are important to your organization and building strategies to achieve them is essential. Too much data can paralyzing, creating and testing specific hypotheses helps.
---

Session: Apps and TV
Speakers:
Will Phung, Dstillery, Vice President of Media
Joakim Achren, Next Games, Co-founder, Chairman & CPO
Dan Bishop, Experian, Director, Digital Marketing
Robert Bareuther, iSpot.tv, Business Development
At a glance: Panelists discussed the benefits of promoting apps on TV, as well as the limitations and challenges that still need to be resolved.
Quotable
"When you want to change the perception of your brand, I think that's where you look to more upper-funnel elements… and that's what TV provides." – Dan Bishop

"A lot of big brands run 7, 8, 9 TV ads at the same time. How do you know what's working?" – Robert Bareuther

"If you have a great app, what else do you need to say? Why don't you just show it? Let it speak for itself." – Dan Bishop

"It's really tricky to start spending time on [product placement], but how do you measure impact? It's interesting, but you need to know if it pays off in the end." – Joakim Achren

"A lot of your mobile world metrics and formulas are moving over the to the TV side, so it's really exciting." – Robert Bareuther
Key takeaways: TV is already a highly effective marketing channel for apps, particularly as it relates to branding and awareness. The high cost of TV ads makes it difficult to run test-and-learn campaigns. Attribution remains the biggest challenge, but by compiling data from multiple sources marketers are able to gain some insight into performance.
---
Session: Platform Innovations
Speakers:
Hamilton Bolduc, Mobile Gallup, Head of Strategy
Anne Frisbie, InMobi, SPV & GM, Global Alliances
Danielle Repetti, Millennial Media, VP Performance
Robert Duffy, Time Inc., VP, Mobile App Strategy and Engineering
At a glance: Panelists discussed innovation in the industry, deeply integrating native content, the challenges of differentiation, and the importance of establishing more transparency and trust between advertisers and publishers.
Quotable
"Producing native content is still exceptionally hard to do." – Robert Duffy

"For in-app [marketing], a lot of the brands haven't moved to a platform that enables them." – Anne Frisbie

"You have to have separate creative [for mobile]. You can't repurpose." – Danielle Repetti

"As you're moving to buy-now capabilities, multi-touch attribution is increasingly important." – Anne Frisbie

"As a product changes over its lifecycle, the actions you give credit to are going to change." – Anne Frisbie
Key takeaways: The industry is moving away from standard banners to rich media, native, and video. Despite the difficulty of creating native content, the returns are great, so it's worth it. Multi-touch attribution is important, but the way credit is assigned to each touch will vary by advertiser and according to the product lifecycle.
Did we miss anything? What were your favorite moments?
Like this article? Sign up for our blog digest emails.
Author
Becky is the Senior Content Marketing Manager at TUNE. Before TUNE, she led a variety of marketing and communications projects at San Francisco startups. Becky received her bachelor's degree in English from Wake Forest University. After living nearly a decade in San Francisco and Seattle, she has returned to her home of Charleston, SC, where you can find her enjoying the sun and salt water with her family.