Search won't save your app. And App Store Optimization,  important as it is, won't take you from zero to hero.
At least, not alone.
Here's the problem: even though 65-80% of apps are found after a search — meaning, you need to be good at getting your app found in searches — it's not the kind of search you're dreaming of. People aren't search for "great football game."
Instead, they're searching for "one football," a specific app.
Or they're searching for Target, or Starbucks, or Amazon, a specific company.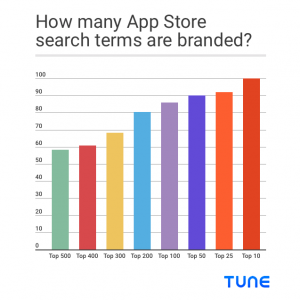 We know this, because almost all the top App Store search terms — and, yes, Google Play search terms — are branded. They're app names, company names, or some combination of both. And that means one very specific thing:
You need to market your app everywhere you can, and anywhere that works.
If you want the install, you need people to be coming to the App Store with your name on their lips. If they're not typing your name into the search box, odds are you're not getting the download. In fact, we've found that developers and publishers who have large online and social footprints get 100 to 1000 times more installs than publishers who don't.
It's simple.
You need great ASO. But you also need great marketing off the App Store, and off Google Play.
Author
As Mobile Economist at TUNE, I forecast and analyze trends affecting the mobile ecosystem. I've been a journalist, analyst, and corporate executive, and have chronicled the rise of the mobile economy. Before joining TUNE, I built the VB Insight research team at VentureBeat and managed teams creating software for partners like Intel and Disney. In addition, I've led technical teams, built social sites and mobile apps, and consulted on mobile, social, and IoT. In 2014, I was named to Folio's top 100 of the media industry's "most innovative entrepreneurs and market shaker-uppers." I live in British Columbia, Canada with my family, where I coach baseball and hockey, though not at the same time.