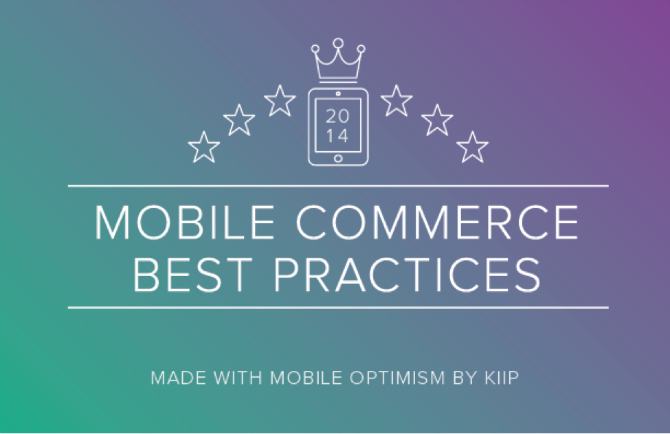 This is a Guest post by Kevin Fishner, Director of Growth at Kiip, a mobile monetization network. Kevin lends his talents to help Kiip launch and grow new products.
The Four Mobile Commerce Trends You Can't Ignore
Mobile presents an opportunity to create insurmountable advantages by extending your customer relationships into new realms — Kiip interviewed 10 mobile experts to reveal how the top mobile commerce companies do it today.
The ten companies are grouped into commerce brands and complementary services. JackThreads, Frank & Oak, Threadflip are commerce brands. HubSpot, URX, deeplink.me, MobileAppTracking by HasOffers, MobileDevHQ, Appiterate, and KISSmetrics are complementary commerce services. Each company was interviewed and asked the same questions. After evaluating these conversations, four major themes continued to appear:
1. User-first design: customer experiences must be viewed holistically
2. Mobile is always-on
3. Mobile measurement and analytics tools are rapidly becoming more complex
4. Deeplinking has outstanding promise in connecting the mobile ecosystem
These trends will shape commerce for years to come.
Mobile Is One Aspect Of User-First Design
The most successful mobile commerce companies focus on user-first experiences. You will rarely hear these companies talk about "mobile-first" or silo any of their products — they understand that each email, web property, app, push notification, newspaper ad, or any brand touchpoint contributes to the complete experience for each individual user. Mobile has only recently exposed this holistic approach as it's the first time customers can be consistently identified across disparate browsing and buying experiences.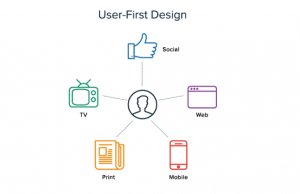 If there's one company who understands user-first design, it's HubSpot. They've built a business on inbound marketing expertise. Meghan Anderson, Head of Product Launches at HubSpot, describes the rationale behind building user-first products:
"There's no such thing as a smartphone user, tablet user, or web user. Rather, it's the same user who hops between the different experiences. Customers are the collection of their entire experience using HubSpot across multiple channels – social media, web, search, mobile. You must think holistically about all of these channels, including mobile. We've always built HubSpot to reflect the way customers behave."
HubSpot is the thought leader in optimizing users' brand interactions, so when a major design decision like this is made, you need to listen. KISSmetrics is another company that commands respect when it comes to user-first design — its entire analytics stack is built around the individual. "KISSmetrics takes all the data you're collecting and ties it to real people. Every last piece gets connected to a real person. All of it. It doesn't matter if people bounce around between different browsers and devices. Or even if it takes them 6 months to come back. You'll see what real people do," preaches Sean Work, Director of Marketing at KISSmetrics. As new channels develop across web, mobile, social, video, and beyond, the only facet that will remain unchanged is the individual. The human who is interacting with your brand across all these experiences — design for him or her, not for mobile. These user-first insights shared by HubSpot and KISSmetrics have started to permeate into the commerce world.
JackThreads, the company at the top of our mCommerce chart, similarly understands the empathy required to meet your customers where they live. CEO Ben Lerer explains JackThreads' smooth transition into mobile because "it's where our guys live. We aren't forcing a behavior — we're just investing into creating great products where we know our guys need them." Even beyond understanding your core audience and responding to its lifestyle changes is predicting where they'll be in the future, a feat menswear brand Frank & Oak has been able to do repeatedly. Their current focus is exploring mobile to personalize users' complete Frank & Oak experience. Again, using mobile to enhance user-first design. Nima Gardideh, the mobile product lead at F&O describes this concept:
"Mobile is a lifestyle and branding tool to personalize the experience for the user. If you can build brand perception and strength through mobile, that customer will become a greater advocate for you over time…. Mobile is such a personal device, and that greater customer understanding will help brands make more meaningful connections with their customers."
Customer relationship building spans all mediums, even if buying does not — not all channels have to close sales (source: KISSmetrics). Below is a graphic that Nima uses to explain Frank & Oak's holistic approach to increasing conversions as a whole, not just for individual channels.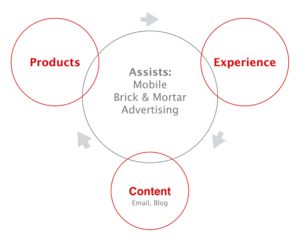 When you're designing your mobile experience, keep in mind that it's just one piece of the collective user experience. There will always be new channels, but there will only be one user moving between them.
With perspective on how mobile experiences fit into user-first design, the rest of the Kiip Best Practices guide explains how to make the most out of your mobile experiences.

Author
Becky is the Senior Content Marketing Manager at TUNE. Before TUNE, she led a variety of marketing and communications projects at San Francisco startups. Becky received her bachelor's degree in English from Wake Forest University. After living nearly a decade in San Francisco and Seattle, she has returned to her home of Charleston, SC, where you can find her enjoying the sun and salt water with her family.