Affiliate marketing is a true cross-channel marketing effort. Mature affiliate programs will have a diverse mix of affiliates from different segments, and will not be over-dependent on any one segment for the bulk of their revenue.
You can optimize your affiliate program by segmenting your affiliate base by marketing method and by target demographic, and provide relevant tools for each segment. In this post, we will discuss various affiliate segments and best practices for getting them engaged.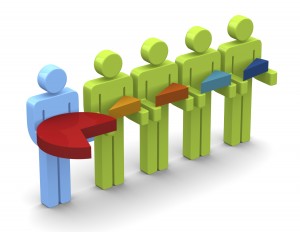 Content Sites
The purpose of a content site is typically to draw in readers, not consumers. The primary objective of a true content site is to educate or entertain the reader. These sites are valuable because they whet a consumer's appetite and influence shopping decisions. If we are looking at the conversion funnel content sites play a role at every level: consumer awareness, interest, intent and purchase. Examples of content sites include GlamorganicGoddess.com and NerdWallet.com.
To best engage content sites, provide advance notice of sales, so that your content affiliates have time to prepare their posts and plan their placements. Also, consider offering product samples so that content affiliates can personally review and engage with your offering. Finally, provide pre-written and pre-coded content, with affiliate tracking links already embedded, that content affiliates can adapt for their own use. You can provide them with recipes, articles, interviews, anything that helps the affiliate compose a post.
Coupon/Deal Sites
Coupon and deal affiliates are shopping-oriented sites that provide consumers with a directory of coupons, deals and sales. While your customer acquisition cost may be higher due to having to discount your offerings, coupon and deal sites do tend to provide broad distribution. Provided you are equipped to manage your margins and track your new/existing customer ratio, you can see incremental revenue from these sites.
To best engage coupon and deal sites, consider working with tools such as ForMeToCoupon, which consolidates coupons and deals into a single data feed that coupon affiliates are able to incorporate easily onto their site. Also, when informing coupon affiliates about new offers, be sure to include any relevant coupon codes and expiration dates. Lastly, if you are trying to secure placement on a specific coupon site, consider offering a placement fee, increased commission, exclusive deals and/or vanity coupon codes that incorporate the affiliate's brand into the actual code.
Search Affiliates
There are two types of affiliates that use search engine marketing to drive revenue. Those who specialize in search engine optimization (SEO), and those who specialize in pay-per-click marketing (PPC). Both of these types of affiliates would benefit from keyword lists and lists of bestselling products, so that they can optimize their campaigns around proven converters. For example, if an SEO affiliate knows that muslin baby blankets are a bestseller on your site, they could create a site entirely around muslin baby blankets, and optimize it so that it would rank high in natural search results for related terms. Similarly, if a PPC affiliate knows that muslin baby blankets are a top seller, they can design a PPC campaign around that product, and drive specifically targeted traffic to your site.
Hope that whets your appetite for thinking about various affiliate segments and what tools you can provide based on their individual needs!
Partner the way you want to with the TUNE Partner Marketing Platform, the industry's most flexible SaaS solution for managing marketing partnerships across mobile and web. Start your 30-day free trial today.
Author
Becky is the Senior Content Marketing Manager at TUNE. Before TUNE, she led a variety of marketing and communications projects at San Francisco startups. Becky received her bachelor's degree in English from Wake Forest University. After living nearly a decade in San Francisco and Seattle, she has returned to her home of Charleston, SC, where you can find her enjoying the sun and salt water with her family.