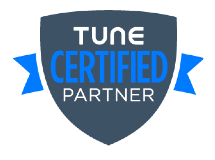 In August 2015, we announced the launch of the TUNE Certified Partner Program and the first wave of certified partners. TUNE designed the program to make it easy for advertisers to find and work with advertising partners who support industry mobile marketing best practices.
To date, we have seen a 30% improvement of best practice adoption in just the first three months of the certification program! Since the launch of the TUNE Certified Partner Program, we've received over 75+ applications from advertising partners wanting to become a TUNE Certified Partner.
This speaks volumes to the success of the program thus far.
Today, we are pleased to announce the second wave of TUNE Certified Partners who have invested time and resources to meet each requirement of the certification process. This cohort provides an additional set of advertising partners who are ready to help mobile advertisers meet their acquisition, retention, and engagement goals.
Our latest additions to the TUNE Certified Partner Program include:
Adperio

Chartboost

Fyber

IconPeak

Opera Mediaworks

Phunware

Pocket Media

Surikate
Congratulations to this group! We are excited to call you TUNE Certified Partners; committed to serving marketers while upholding the standards and best practices of the industry.  
"As the mobile ad ecosystem continues to expand, it's important for marketers and publishers to find innovative partners they can rely on," said Ross Barasch, senior director of global strategic partnerships at Fyber. "TUNE's certified partner program (CPP) is a great step toward providing the transparency and standardization around best practices that the industry needs, and Fyber is glad to be part of it."
Chartboost's Senior Product Marketing Manager Greg Dale echoes those sentiments.
"The TUNE Certified Partner Program enables Chartboost to promote the mobile marketing best practices and ensure there's a seamless experience for our common partners. We're thrilled to be a part of this program and are looking forward to working more deeply with TUNE," Dale said.
TUNE Certified Partners also benefit from the program as well. Certified partners get unique co-branded marketing efforts, TUNE product insights, and enhanced training and support. This partnership encourages integrated advertising partners to be market leaders.

We're already evaluating the next wave of Certified Partners to join the program and will continue to add new Certified Partners on a rolling basis to increase the transparency within the mobile ecosystem. Integrated advertising partners can apply here to get certified.
Selecting Certified Partners in the TUNE Marketing Console
Today, marketers can easily identify and select certified partners from the Partners Integrations page within the TUNE Marketing Console by the 'CP' badge next to the advertising partner's name. They can also filter their search to view Certified Partners only.
Like this article? Sign up for our blog digest emails. 
Author
Becky is the Senior Content Marketing Manager at TUNE. Before TUNE, she led a variety of marketing and communications projects at San Francisco startups. Becky received her bachelor's degree in English from Wake Forest University. After living nearly a decade in San Francisco and Seattle, she has returned to her home of Charleston, SC, where you can find her enjoying the sun and salt water with her family.