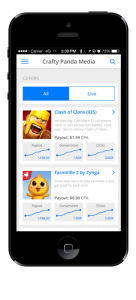 Have you seen our HasOffers Publisher Dashboard app yet? If not, go ahead and check it out in the Apple AppStore and Google Play.
What is the HasOffers Publisher Dashboard?
The HasOffers Publisher Dashboard provides publishers and affiliates with the convenience of on-the-go offer management. They can easily view, manage, and track the performance of offers through their mobile device. Presenting a unified view of offers, payout, conversion, and click data, the HasOffers Publisher Dashboard empowers publishers to manage and report on the performance of their offers anytime, anywhere.
What are clients saying about it?
The response to the HasOffers Publisher Dashboard has been quite positive. vCommision—a top network in India—has turned this feature on for their publishers. Tarang Bhargava, Founder of vCommission said, "We enabled t

he HasOffers Publisher Dashboard because we wanted our media buyers and affiliates to have a better user experience; an app is always better in comparison to a mobile website. In addition, the HasOffers Publisher Dashboard gives network owners the ability to be more engaged with their affiliates by providing real-time updates."
Speaking on the feedback he's gotten from vCommission's affiliates, Tarang said, "Our media buyers and affiliates love the offer notifications they receive in real time and the ease of checking earnings anytime. Everyone is on a smartphone these days and the HasOffers Publisher Dashboard makes it really simple for our affiliates to check anything in their account, from offers to stats to notifications. They also find the Contact feature quite useful; they can find their Affiliate Manager's contact details instantly, in case they need to reach out with any questions."
What are the top 5 features of the HasOffers Publisher Dashboard?
#1 User-Friendly Interface
The sleek interface enables you to quickly view, manage, and track performance of offers in real time.
#2 Push Notifications
Convenient push notifications can be sent to your mobile device to immediately alert specific offer changes important to you.
#3 Single Interface for Multiple Networks
The app offers the ease of a single interface for multiple networks, giving publishers and affiliates the ability to view dashboards from all their networks through one user profile.
#4 Generate and Share Tracking Links
With the HasOffers Publisher Dashboard, you can instantly create tracking links with the option to share them via tweet, copy, or email—with one click.
#5 Customize Stats Displayed
The app is flexible enough to allow you to customize stats displayed to your preference. View payout, conversions, clicks, impressions, conversion rate, and EPC.
How to enable the HasOffers Publisher Dashboard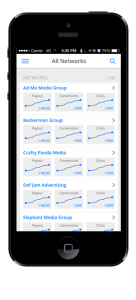 Networks must opt-in to allow their publishers and affiliates to use the HasOffers Publisher Dashboard mobile app. The network also must be running the most current version of the publisher interface.
If you are a publisher or affiliate, ask your network to enable the app for you. If you are a network, what are you waiting for? Go enable the HasOffers Publisher Dashboard for your publishers and affiliates!
For more information and to enable the HasOffers Publisher Dashboard app for your publishers, please see our support documentation or contact your Account Manager.
Like this article? Sign up for our blog digest emails.
Author
Becky is the Senior Content Marketing Manager at TUNE. Before TUNE, she led a variety of marketing and communications projects at San Francisco startups. Becky received her bachelor's degree in English from Wake Forest University. After living nearly a decade in San Francisco and Seattle, she has returned to her home of Charleston, SC, where you can find her enjoying the sun and salt water with her family.