Yesterday Twitter announced a new type of ad card that will appear in users' timelines on both desktop and mobile devices. The "Lead Generation Card" provides advertisers with the ability to drive highly qualified leads with the simple click of a button by a Twitter user. As Twitter explains in a blog post about the new card, "Marketers regularly talk to us about their goals, and for many it boils down to one major theme: generating leads, and ultimately driving purchases." With the Lead Generation Card, users can easily and securely share their email address with a business without ever leaving Twitter – or most importantly, without ever having to fill in any forms.
When someone expands a Tweet that includes this card, users will see a description of the offer and a call to action. Their username and email address will already be filled in, so the user will only need to click a button to send their info to the advertiser. The advertiser will then instantly have the user's email address.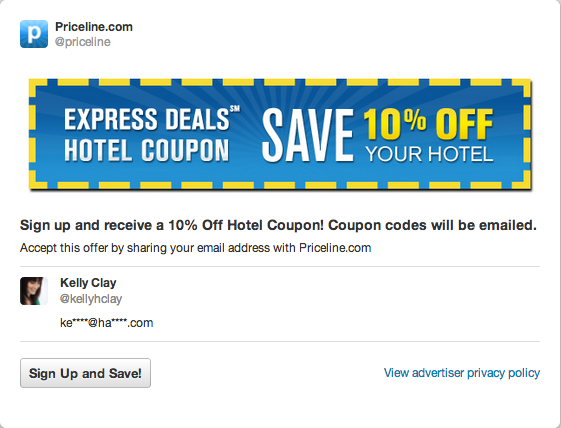 The process for claiming an offer is the same on mobile as it is on desktop: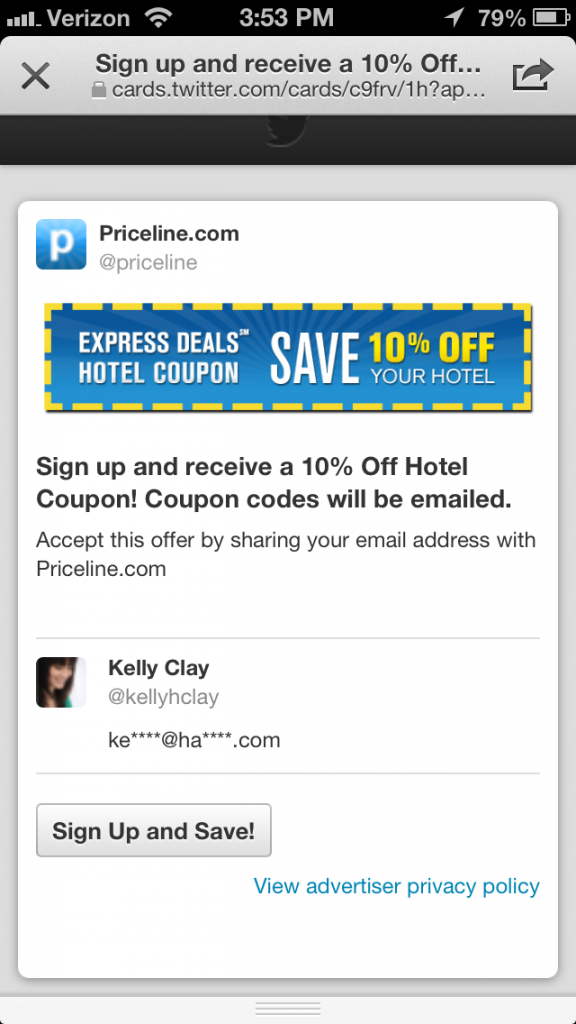 This resolves a major pain point for businesses and brands who have had difficulty collecting information from potential customers from these users (called "leads" in the marketing industry) due to the limitations of collecting information on a mobile device. Specifically it can be burdensome for potential customers to enter names, email addresses, and other information on a small screen. With the Lead Generation Card on Twitter, you can get higher conversion rates than you usually would when targeting mobile devices with Twitter Ads.
Twitter is currently only offering Lead Generation Cards to its managed clients, but the opportunity for small and medium-sized businesses to adopt this feature will be coming soon. Businesses that eventually leverage this feature will find that it generate better leads, as the tweets will be seen by Twitter users already interested in their brand (either by paid targeting or organic interest). Additionally, the ease of obtaining these leads via mobile – which comprises 60% of Twitter usage – will only contribute to higher conversion rates, especially as mobile users interact with brands more than other users.
We're looking forward to leveraging the Lead Generation Card. If you're an advertiser, let us know your thoughts about this new Twitter feature. Do you think it will help drive more leads and conversions? Sound off in the comments.
Author
Becky is the Senior Content Marketing Manager at TUNE. Before TUNE, she led a variety of marketing and communications projects at San Francisco startups. Becky received her bachelor's degree in English from Wake Forest University. After living nearly a decade in San Francisco and Seattle, she has returned to her home of Charleston, SC, where you can find her enjoying the sun and salt water with her family.