As global head of mobile gaming at TUNE, chances are Tim O'Neil has worked with a mobile gaming company just like yours. He's seen first-hand what it takes for mobile gaming companies of all shapes, sizes, and demographics to succeed — and knows that it's not what they have; it's what they do. Below, he shares what he's seen in the marketplace: what works when it comes to acquiring new mobile game users, distinguishing a product in a crowded marketplace, and measuring the right KPIs. He also shares what doesn't work — the biggest oversights that mobile gaming marketers make.

What advice do you have for mobile marketers looking to find new users?
Cast a wide net as early as possible by testing out various partners, geographies, and devices to see where the most stickiness is in terms of install volume and engagement. But pay attention to the early trends you're seeing to zero in on those acquisition sources that are netting you the best results.
For new games, the best source of new users isn't always known at the outset, and it may take time (and money!) to uncover, but a lot of this has to do with the game itself and the intended audience. It's important to know what kind of users you're looking for, and then optimize for them through the media partners that you work with.
How can mobile gaming companies distinguish their product in a crowded marketplace?
Focus on creating awesome content—this is always the core of the app, and is what will keep players engaged and coming back. Get descriptive on your app store landing pages, and A/B test your copy and screenshots to find which combination yields the most users. When it comes to paid media, test everything, and give ad format options a try in order to keep your marketing mix up-to-date and fresh.
What marketing channels do you recommend for acquiring new users?
Social channels like Facebook and Snapchat as well as video and playable ads.
What's the best way to keep players engaged with a mobile game? What KPIs help determine user engagement?
Know your goals—what are you trying to achieve? Are you simply trying to run ROI-positive campaigns, or are you trying to break into the Top 10 apps within a specific app category? How you define success will determine how you need to get there.
Whether it's revenue/IAP, time spent in-game, or number of sessions played, there are a number of strategies that can be utilized to get to where you are aiming to be. It's important to speak with your analytics and media partners about this and make sure they know what you're hoping to achieve, so they can align themselves with your goals.
What are mobile game marketers' biggest oversight for acquiring new users? What can they do to solve this problem?
Not focusing on the whole funnel. Paid UA is only one part of the funnel, and there needs to be a multi-faceted approach. I've seen over and over again where marketers focus entirely on the top of their marketing funnel and don't give the rest of the process the attention it requires.
There are channels these days that require a bit more work, like app store optimization for organic traffic or in-app marketing tactics for retaining users. Too often these methods for optimizing organic conversions and engaging existing users are viewed as an afterthought, when they need to be treated as separate pillars to the marketing strategy from the get-go.
Access insights from more mobile gaming marketers
Tim is just one of the mobile gaming marketers featured in our e-book, "Acquisition and Engagement Tips from Mobile Gaming Ninjas." Download the e-book to also hear tips, tricks, and stories from more mobile game marketers, including: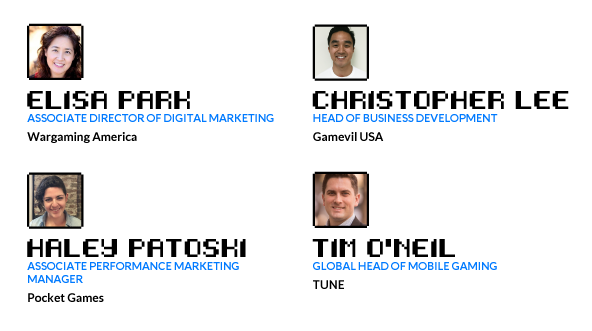 Author
Becky is the Senior Content Marketing Manager at TUNE. Before TUNE, she led a variety of marketing and communications projects at San Francisco startups. Becky received her bachelor's degree in English from Wake Forest University. After living nearly a decade in San Francisco and Seattle, she has returned to her home of Charleston, SC, where you can find her enjoying the sun and salt water with her family.