Mobile apps lead to higher engagement than the web. Companies with an existing web presence should use the strength of that asset to drive app discovery.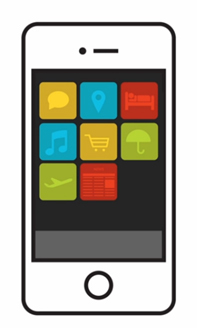 Consumers behave differently with mobile apps than they do with the mobile web. And while, from a marketing perspective, apps hold the advantage in user engagement, users still tend to default to the mobile web when searching for information. There are a couple of reasons for this. First, consumers have learned over the past decade to rely on Google's search engine for digital queries. Second, finding the right app for a particular need is not always easy to do.
The gap between the mobile web and mobile apps is one that marketers have to learn how to bridge. No company wants to invest resources in app development and optimization only to end up with a small user base, yet customers who are spending money on their apps tell us that discoverability is still a major issue.
For companies that already have a web presence, the best way to improve app discoverability is to use the strength of that presence to drive consumers to your mobile app. LinkedIn does this incredibly well. Any time you try to access the LinkedIn website on a mobile phone, it asks if you'd like to download the app instead. The company knows it can deliver a better mobile experience through the app channel, so it encourages users to move in that direction rather than continue on to the mobile website.
The one downside to LinkedIn's approach is that it creates a barrier to immediate access – users have to accept or decline the app download –, which may not be the best strategy for all companies. If you don't want to be as aggressive as LinkedIn, another option is to funnel users through to your site, but then offer an incentive for downloading your app in the future. Retailers, for example, can offer free shipping or a one-time product discount for each new download to a consumer device.
Incentives work for sharing the news about mobile apps as well. If one user downloads your app, you can offer further rewards for referrals to friends and family.
Driving people from your site to your app is the first step to increasing your app audience. However, app discovery and app performance also feed into each other. The more you can deliver value in your app, the more that value will get communicated to a wider audience – to the people who already know your brand, but also to potential new users and customers. Understand what your target audience wants, iterate quickly on the app experience, and keep providing more value over time. No other strategy is better proven to deliver business results.
Author
Becky is the Senior Content Marketing Manager at TUNE. Before TUNE, she led a variety of marketing and communications projects at San Francisco startups. Becky received her bachelor's degree in English from Wake Forest University. After living nearly a decade in San Francisco and Seattle, she has returned to her home of Charleston, SC, where you can find her enjoying the sun and salt water with her family.