Wow, it has been a packed month at HasOffers. I can't believe it is already time to catch a red eye to New York tonight and get ready for
Affiliate Summit East 2011
. HasOffers is pretty excited about this Affiliate Summit. We're staying at the Hilton with all of our friends, meetings are packed solid back to back, we're putting up our first actual exhibit booth at
Affiliate Summit (#1306)
, and the presentations and panels this year look amazing.
Whatever you do, don't miss the Meet Market!
This is one of the most valuable face-to-face networking sessions you will experience at Affiliate Summit. Booths are small, close together, and palms are being pressed faster than any expo floor you've ever seen. We have always seen a huge return from both participating in the Meet Market and attending, so don't miss it.
Top 4 Panels to Attend
1. SEO Clinic Location: Gramercy Suite Time: 2:00pm-3:00pm A panel after my own heart, this all-star cast of experts including Sugarrae, Jim Boykin, industry favorite Michael Gray (aka Graywolf), and the infamous Kenny Hyder will be reviewing websites owned by members of the audience, identifying key SEO issues and giving up the best ways to fix them. Previous with Kenny Hyder Video: Previous Site Clinic at Affiliate Summit
2. Killing the Affiliate Nexus Tax Dead! Location: Sutton (South & Regent) Time: 3:30pm-4:30pm Possibly one of the hottest topics of 2011 among affiliate marketers, this panel address the nexus tax, how it impacts our industry, and how we've been combating proposals in various states. Hear from Rebecca Madigan of the PMA who has lead much of this charge, along with others including Scott Allan of LinkShare, David Andre of Cartera, and Matthew Schaefer. Related reading on this blog: How Far Does Affiliate Nexus Go? Texas Affiliates Show Up for Battle Amazon Affiliates Are Not Salesmen
3. Do-Not-Track? Not-So-Fast Location: Sutton (South & Regent) Time: 2:00pm-3:00pm In the name of privacy, the FTC has proposed laws to stop advertisers and third parties from tracking users without their consent. This panel of experts is diving into the potential impact of these proposals and what the industry can do self regulate and avoid legislation. Moderated by Brad White of uSamp, you find me, Peter Hamilton, Sara de Diego of the PMA, and Kimberlee White, Co-Founder of AKMG.
4. The Speed Round Location: Grand Ballroom Time: 3:30pm-4:30pm This is a moderated panel positioned as a light speed round, including short, timed segments to share opinions on industry issues. Though this is another panel I'm on, and you might be tired of my face, you should definitely consider stopping by and listening to this all-star cast of industry leaders. Jim Kukral, CEO, The Attention! Formula (Twitter @jimkukral) (Moderator) Peter Hamilton, Partner / CMO, HasOffers (Twitter @peterhamilton) Scott Jangro, Co-Founder, Shareist.com (Twitter @jangro) Carolyn Kmet, Director of Affiliate Marketing, Groupon (Twitter @catango) Brian Littleton, Founder & CEO, ShareASale (Twitter @brianlittleton) Kimberlee White, President and Co-Founder, AKMG (Twitter @kymbrla)
Where can you find the HasOffers team after conference hours? #PartyParty
Obviously there are a ridiculous number of parties going on, so I thought I'd let you know which open events the HasOffers team plans to attend, or at least make an appearance. I don't know if that impacts your decision on dropping by, but I figured this way you'd know you have some friends planning to attend the same event. If you would like to have the HasOffers team stop by your event, please contact us via twitter @HasOffers.
Sunday ShareASale – Pick up Invites at the Meet Market NEON in NYC NeverBlue Rooftop Party
Monday Exclusive PMA Network Event Skimlinks Party Mundo Media BDR Engage and Ads4Dough Affiliate Ball Clickbooth Party
Who's coming from HasOffers?
We'll be sending 7 people from HasOffers, including myself. Be sure to get in touch with your contact via email to set up a meeting time, or email [email protected] if you don't already have a contact over here.
Lucas Brown, CEO Peter Hamilton, CMO Cameron Stewart, VP of Sales Patrick Hearron, Business Development Micah Gantman, Business Development Trevor Schain, Digital Marketer Grant Kidd, Senior Programming Engineer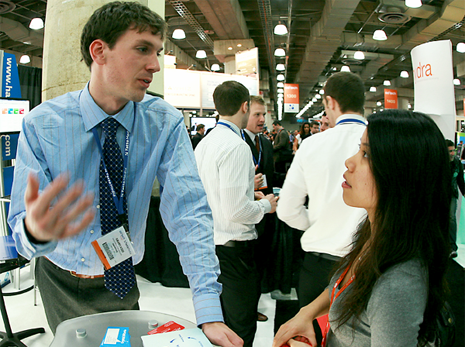 That's right, this time we'll be bringing along our Senior Programming Engineer, Grant Kidd, who has been a part of the development of the HasOffers platform since the beginning. Though he won't be making 1 on 1 appointments, please stop by the booth (#1306) to talk with him. He is there to listen to your thoughts about the future of our platform and answer high level technology questions you may have.
If you need to schedule some time with Lucas or myself, please contact me immediately as our schedule is pretty well solid. We do happen to have some time during the day tomorrow if you're already in New York.
Four members of our team will be staying over for Leadscon, so you are welcome to schedule a meeting with us then. Of course, you can also stop by our booth (#229). It looks like there will be over 700 companies attending which should make for a really exciting show and a great excuse to hang around New York for a few more days!
Author
A digital marketer by background, Peter is the former CEO of TUNE, the enterprise platform for partner marketing. In 2018, he sold TUNE's mobile measurement product to Branch, unifying measurement and user experience. He led TUNE's efforts to bring better management technology and automation to marketing partnerships, across affiliates, influencers, networks, and business development relationships. Follow @peterhamilton