2019 Update: HasOffers has rebranded to TUNE! The TUNE Partner Marketing Platform is the same great technology behind HasOffers, now enhanced with new tools and features for networks and advertisers. Read the rebrand announcement here or head to our homepage to learn more.
---
Not sure if you're ready to sign up for HasOffers? Luckily, we offer demos and trials to ensure HasOffers is right for you. To promote the HasOffers tracking platform, we run organic and PPC campaigns on both Facebook and Google. Of course, the results of these campaigns – and their impact on whether customers ultimately convert after signing up for a free trial – vary drastically.
We ran a comparison of HasOffers signup conversions in terms of referrals from Google vs. Facebook over the past year (2/1/12 – 2/1/13). What we found is that overwhelmingly the majority of trial signups (95.6%) continue to come from Google rather than Facebook (4.4%). Part of that is attributable to traffic, as we currently receive 10x more traffic from Google than Facebook, but when you compare apples to apples the picture becomes clearer. We received 1 signup conversion for every 195 visits we received from Google vs. 1 signup conversion for every 396 visits we received from Facebook.
Check out the infographic below to see how Facebook and Google compare for free trial conversions, and let us know if you are seeing similar results (or not.)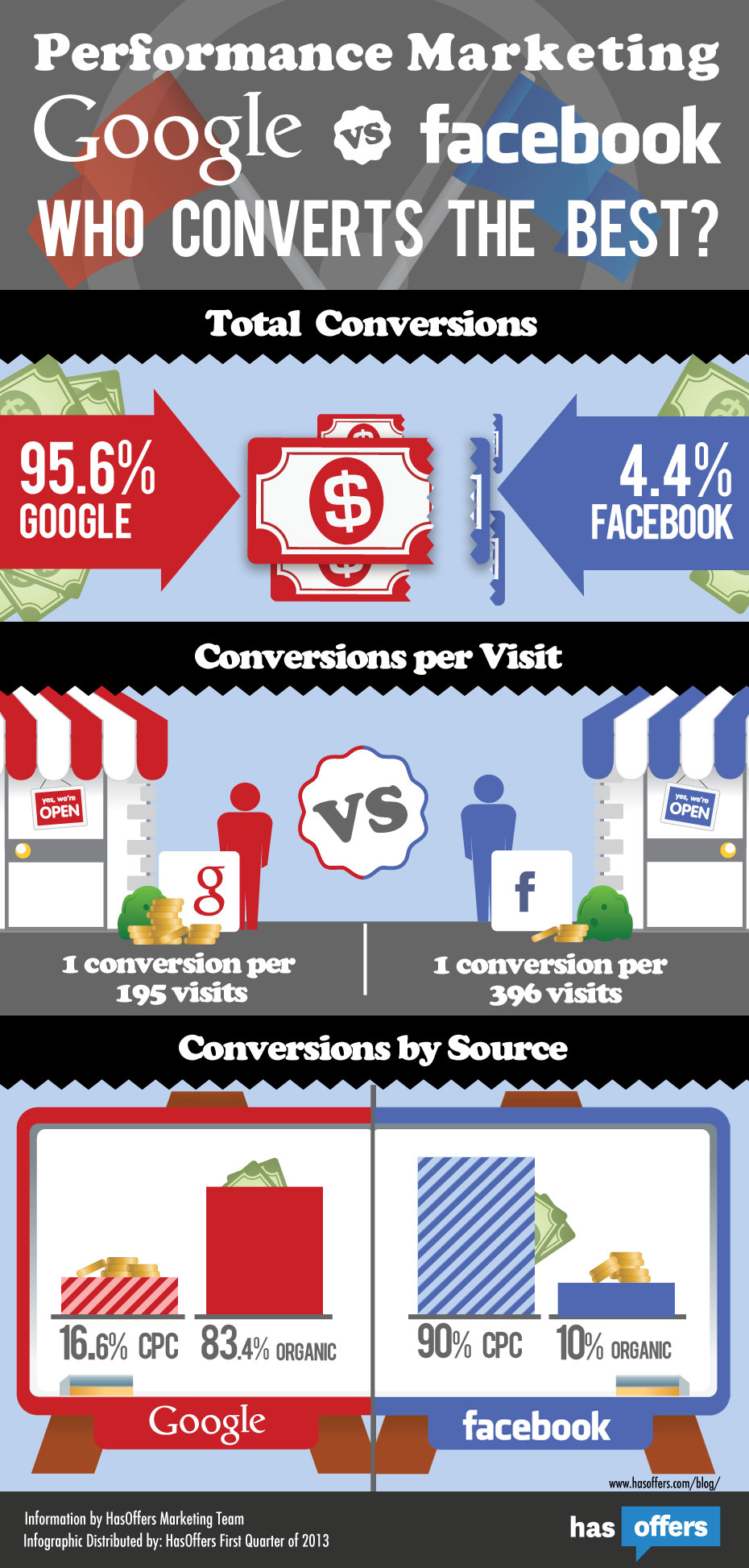 Author
Becky is the Senior Content Marketing Manager at TUNE. Before TUNE, she led a variety of marketing and communications projects at San Francisco startups. Becky received her bachelor's degree in English from Wake Forest University. After living nearly a decade in San Francisco and Seattle, she has returned to her home of Charleston, SC, where you can find her enjoying the sun and salt water with her family.