Facebook appears to be in mid-rollout of a new ads creator advertising interface. As we were buying new campaigns this morning, two different Create Ad interfaces were showing up depending on who signed in. My administrator account has access to the new features, general users with buying capability aren't able to access the new version. In some cases we are seeing the classic ad creation that's existed at https://www.facebook.com/ads/create/?act=[AccoutID]. But I have access to a new interface that changes the way ads are purchased that currently resolves to https://www.facebook.com/ads/manage/adscreator/?act=[AccountID]. If this new version isn't enabled on your Facebook account yet, the new URL redirects.
For Page campaigns, you can choose whether to promote the page itself or a specific post. Once you do that, pricing is limited to a daily budget. Facebook appears to be charging on a daily budget CPM basis exclusively. Why would Facebook force a CPM buy for Fan pages and Apps? They aren't getting the clicks, which means they have to force buyers to walk down a limited path.
For external pages, pricing is now only available on a CPC basis. Apparently I can no longer run a CPM campaign if I simply want to promote HasOffers.com.
Here's what a Page or Application buy looks like: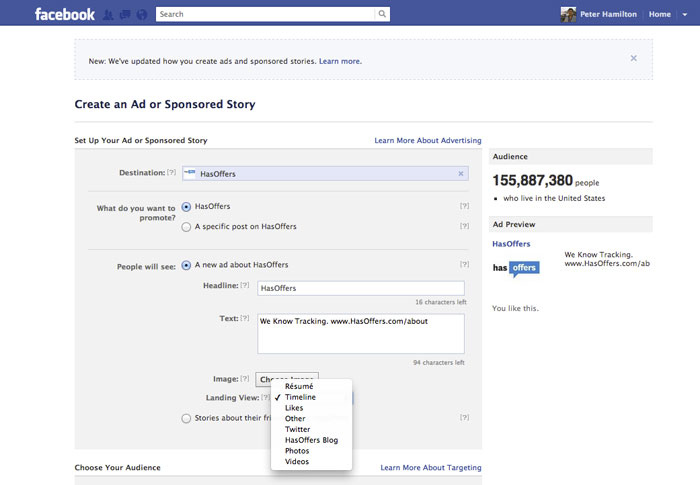 If you choose the specific page the options are slightly different: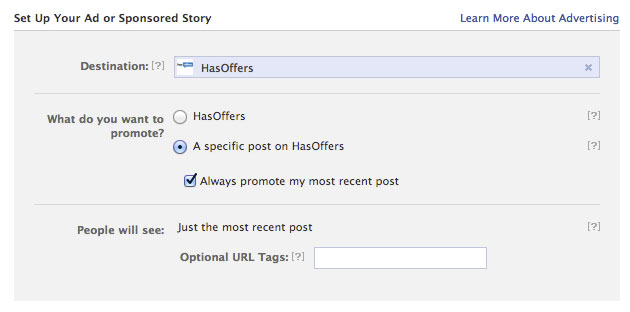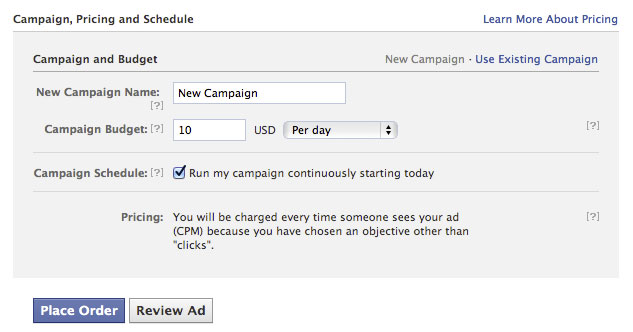 Here's what an external site ad looks like now for choosing the destination URL and pricing (demographic options appear to be the same).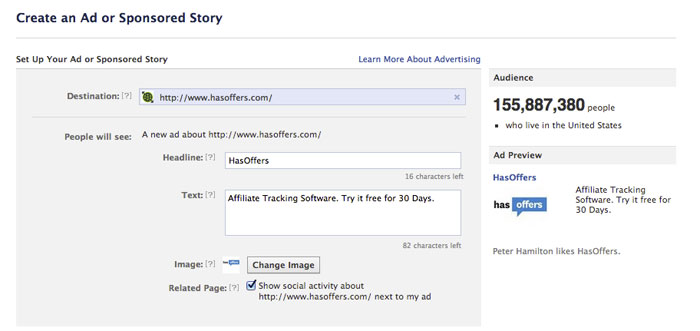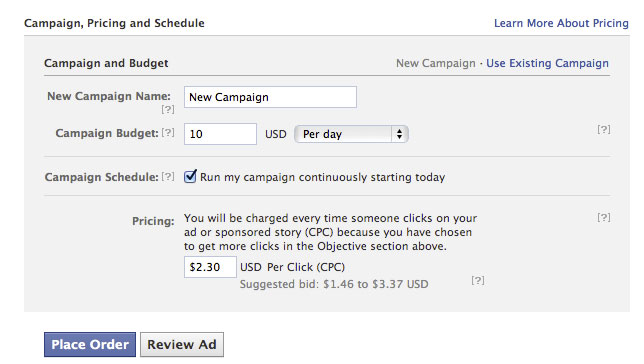 Facebook is now deciding what my campaign objective is for me. As you can see in this FAQ, if I'm promoting a page, I can choose between optimizing for likes or clicks. If I'm promoting an external URL, my objective (according to Facebook) is to get clicks on the ad. What if I want to run a brand campaign or simply optimize for ad displays?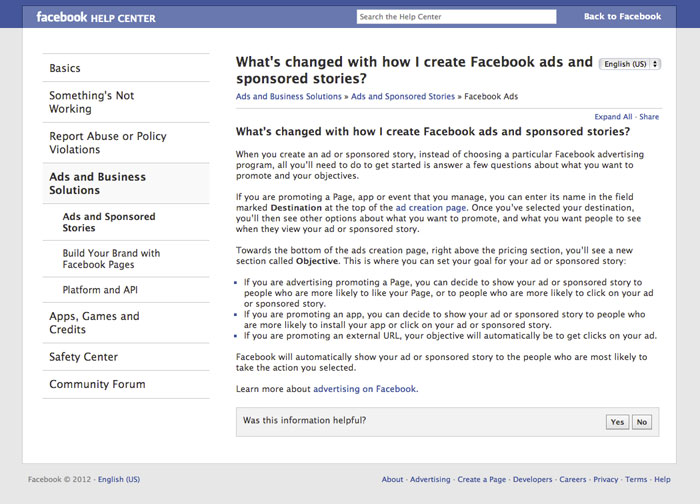 The more interesting thing to me is what this might say for the performance of ad campaigns for Facebook pages. Did Facebook determine that click thru rates were not high enough for internal (within Facebook) advertising? Did they determine the average savviness of the user was lower and therefore shouldn't have a choice between CPC and CPM?
Ultimately, I think it is a little crazy that Facebook is moving forward with the old world of CPM advertising for promoting Facebook pages. I'm assuming that there are far more people buying ads to promote their Facebook page than those promoting external sources because it is easier to create than a website and Facebook is constantly hitting them with ads to promote their pages. The bottom line is that they must have been losing money from those people when they chose a CPC campaign but used terrible ad copy and images, never getting click thrus.
What do you think Facebook is up to here?
UPDATE: According to the screenshots sent to TechCrunch and others, Facebook must be testing multiple variations of this interface. You can see on their article that they have an "objectives" section which is mentioned in my interface but nowhere to be found. They also have more radio button options when promoting a Facebook page.
My Facebook account now also includes the Objectives feature, which is only available for traffic directed inside Facebook. Other HasOffers team members are still seeing the old Facebook ads creator.

This "Objective" panel only shows if you are promoting a Facebook page. You do not have this option when you are promoting an external link. Again, this new interface is only available to me and not the other members of my marketing team that have access to the Facebook ads account for HasOffers.
Author
A digital marketer by background, Peter is the former CEO of TUNE, the enterprise platform for partner marketing. In 2018, he sold TUNE's mobile measurement product to Branch, unifying measurement and user experience. He led TUNE's efforts to bring better management technology and automation to marketing partnerships, across affiliates, influencers, networks, and business development relationships. Follow @peterhamilton