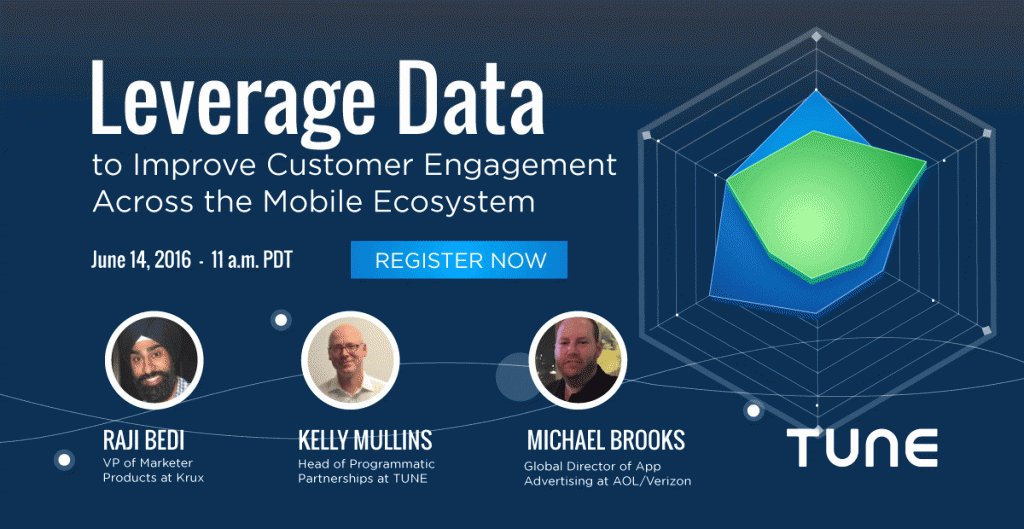 Mobile devices are never far from their owners, which means consumers are creating an unprecedented amount of data (2.5 quintillion bytes to be exact) every single day. When used correctly, data can inspire valued customer experiences like push notifications to travelers about flight delays, timely alerts to drivers when an oil change is needed, or notifications to shoppers about flash sales for products they've been eyeing online. We've assembled a team of top marketers across the digital ecosystem to break down everything you need to know about data (and its possibilities) in an upcoming webinar.
Register today to hear from Michael Brooks, Global Director of App Advertising at AOL/Verizon; Raji Bedi, VP of Marketer Products at Krux Digital; and Kelly Mullins, Head of Programmatic Partnerships at TUNE. You'll learn what the best marketers look for when analyzing data, actionable tips for creating targeted customer experiences, how data revolves around the customer from desktop to mobile, how major brands are turning data into a competitive advantage — and how you can, too.
Busy Schedule? Get the slides instead.
Even if you're not able to attend the live event, your registration will still grant you access to the slides or the chance to view the webinar on your own schedule. Sign up here.
Like this article? Sign up for our blog digest emails.
Author
Jessica is the Senior Content Marketing Strategist at TUNE. Prior to TUNE, she managed a Marketing and Communications team for a national healthcare company, and she contributes to The Huffington Post and several blogs. She received her bachelor's degree in Journalism from Pepperdine University, and loves exploring Seattle, traveling, and entertaining with friends.