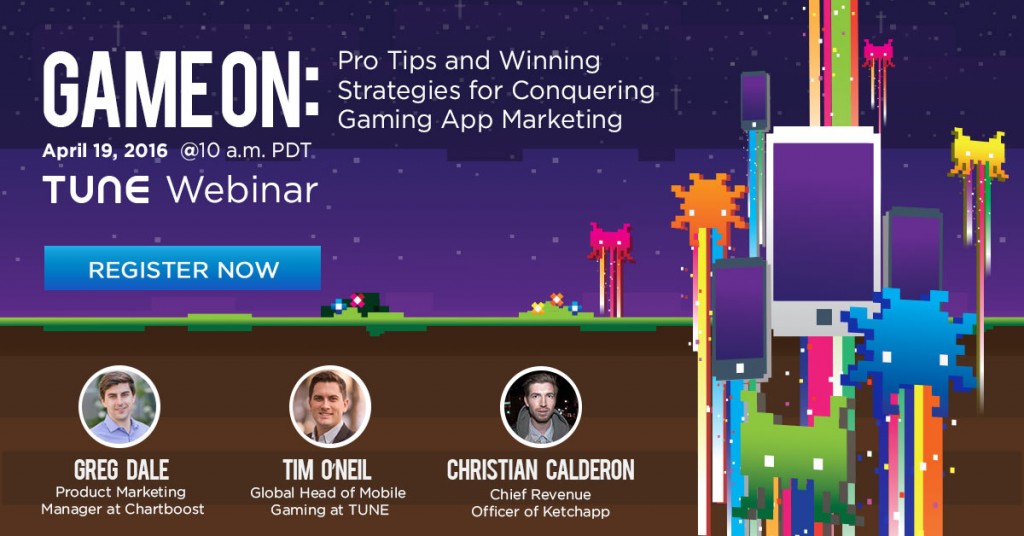 As a savvy mobile gaming app marketer, you know the possibilities of a winning game app, like unstoppable virality, massive revenue, and worldwide adoption, to name a few. There are more than 180 million gamers in the United States alone, and the number is projected to increase for the next several years. More than half of the U.S. population plays mobile games, and that number is even higher in countries like Germany, Brazil and Australia. Top gaming apps generate millions of dollars of revenue per day, so there's a lot at stake. How do you make your gaming app stand out?
We've assembled a dream team of pro gaming marketers to help you out. Join us April 19, 2016 at 10 a.m. PDT for a free webinar: "Game On: Pro Tips and Winning Strategies for Conquering Gaming App Marketing." Hear from expert mobile gaming marketers Christian Calderon, Chief Revenue Officer of Ketchapp; Greg Dale, Product Marketer at Chartboost; and Tim O'Neil, Global Head of Mobile Gaming at TUNE. You will learn:
Simple techniques to acquire new users
How to make your app stand out among other mobile games
Effective ways to engage and re-engage your audience
Best practices for monetizing your mobile gaming app
Register today. Game on!
Like this article? Sign up for our blog digest emails. 
Author
Becky is the Senior Content Marketing Manager at TUNE. Before TUNE, she led a variety of marketing and communications projects at San Francisco startups. Becky received her bachelor's degree in English from Wake Forest University. After living nearly a decade in San Francisco and Seattle, she has returned to her home of Charleston, SC, where you can find her enjoying the sun and salt water with her family.