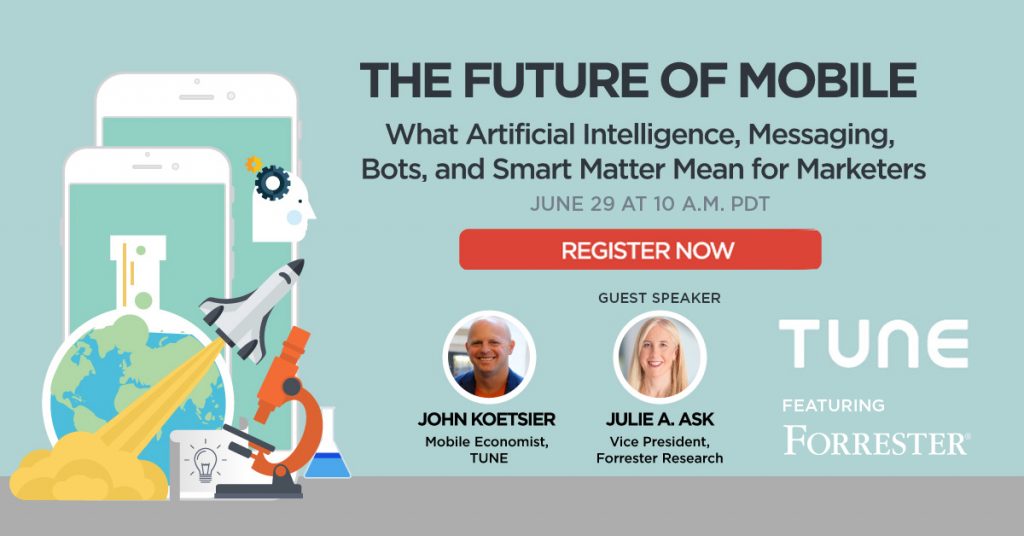 Just when when marketers thought they were getting a handle on mobile, everything is changing.
Ten thousand developers are working on Facebook bots so companies and customers can chat like friends. Artificial intelligence is driving personal digital assistants that will book flights, reserve hotel rooms, call a Lyft or Uber, get great dinner reservations, and maybe even find the perfect date. Amazon is shipping smart tools that re-order products automatically, or with the push of a button, and Google is jumping in on the action.
And some of us just got good old-fashioned email and SEO down pat.
Register for Webinar Featuring Forrester and Guest Speaker Julie Ask
Join guest speaker, Forrester VP and Principal Analyst Julie Ask, (and me) for a 60-minute webinar on what these new technologies mean for marketers, what's hot and what's not … and what you can safely ignore for a few years.
What can't you ignore?
Mobile is now normal and the locus of innovation is shifting.
The app-driven ecosystem with user interfaces painted on glass is done, understood, and fully exploited by market leaders (although not yet fully adopted by all market players). Now the leading — or bleeding — edge is moving on to deep learning, machine intelligence, and messaging bots that deliver services and accomplish tasks in a state of continuous partial productivity. That innovation is taking place on traditional mobile devices, sure, but also on new atmospheric technologies such as Echo, wearable technologies such as Apple Watch, smart matter technologies such as Nest, and immersive technologies such as virtual reality.
Want to know more? Join us to explore what these mean for the future of mobile, the future of marketing, and the future of pervasive ecosystems of always-on services.
What you will learn:
Which new technologies are the future of mobile
Emerging trends such as deep learning, machine intelligence, messaging, wearable and immersive experiences
What these new technologies mean for mobile marketers
Julie Ask is not just one of the world's pre-eminent mobile analysts. With an engineering background, she has the technical chops to understand the changes that are sweeping into marketers' worlds. And, after consulting with hundreds of clients across retail, travel, banking, insurance, CPG, and healthcare spaces, she knows how to translate data and technology into actionable marketing strategy.
The webinar is on Wednesday, June 29 at 1PM EDT, 10AM PDT. Reserve your spot here.
Like this article? Sign up for our blog digest emails.
Author
Before acting as a mobile economist for TUNE, John built the VB Insight research team at VentureBeat and managed teams creating software for partners like Intel and Disney. In addition, he led technical teams, built social sites and mobile apps, and consulted on mobile, social, and IoT. In 2014, he was named to Folio's top 100 of the media industry's "most innovative entrepreneurs and market shaker-uppers." John lives in British Columbia, Canada with his family, where he coaches baseball and hockey, though not at the same time.