If you're a mobile game marketer, you've got more than one million apps to compete with. Standing out takes increasingly more skill, and as a $37B industry, a lot is at stake. That's why we enlisted our a-team; below, Chris Lee of GAMEVIL cracks the code on how to acquire new users, choose between advertising channels, and understand which formats deliver the best ROI.
At GAMEVIL, Chris focuses on sourcing and funding AAA mobile games as well as Gamevil's global business operations. He has executed on GAMEVIL's brand and marketing initiatives for MLB Perfect Inning, Dragon Blaze, Afterpulse, and Dungeon Link.
Read five of his best tips below, or catch additional Q&A from three more mobile gaming marketers in the e-book, "Acquisition and Engagement Tips from Mobile Gaming Ninjas."
Q&A with Chris Lee from GAMEVIL USA
What channels do you use for user acquisition?
We focus more than half of our resources on Facebook and Google—we tend to get the strongest quality from them, but have difficulties obtaining scale. Once we exhaust those resources, we work with third-party ad networks to scale and optimize with the KPIs generated from previous campaigns.
What is the one thing that distinguishes one mobile game from its competitors?
Everything comes down to the game itself. We understand that even with the greatest marketing creative, copy, and placement, if the game doesn't deliver what our users want, it will be a failed campaign.
We differentiate ourselves from the competition by committing to gaming standards that rival console and PC markets. By putting out a high-quality product, we show users that the game is worth their time.
Which marketing assets have worked well for you?
Video assets perform the strongest out of all our creatives. While the initial costs are much more than that of static banners, the quality is unrivaled in terms of ROAS and retention. We have the occasional luck with carousel banners and static interstitials, but video remains king.
How can you maintain user engagement, and how can you track your success?
Engagement relies on three key aspects: community, product, and live operations. We need to reach scale so users can interact with one another and create user generated content (UGC). UGC can range from building bases to discussing strategy. As touched on before, we strive to create the best gaming experience for our users. The game must be fun and engaging to make sure our users keep wanting to come back. Lastly, live operations play a key role in our user retention. Creating daily/weekly/monthly events, responding to the community, and improving the game each month helps build an engaging experience for our players.
Each game has a different set of standards when it comes to user engagement quality. Session length, app opens, and purchases all play an important role when determining a game's engagement factor.
What can mobile game marketers do to improve user acquisition?
Optimization is everything. At times we can get caught up in running a campaign with the same parameters as a previous campaign. We hope the KPIs eventually catch up to our standards, but may become complacent when it comes to optimization. We have to make sure creatives, targeting, copy, and placement are consistently optimized in order to get the most out of our campaigns.
With more tools and dashboards offering a more streamlined optimization process, we will be able to continue to improve optimization strategies by working closely with our tracking partners and being open about our pain points as well as successes.
Win mobile gaming by learning from the pros
Chris is just one of the pros featured in our guide, "Acquisition and Engagement Tips from Mobile Gaming Ninjas." The e-book is full of Q&As with top mobile game marketers, including: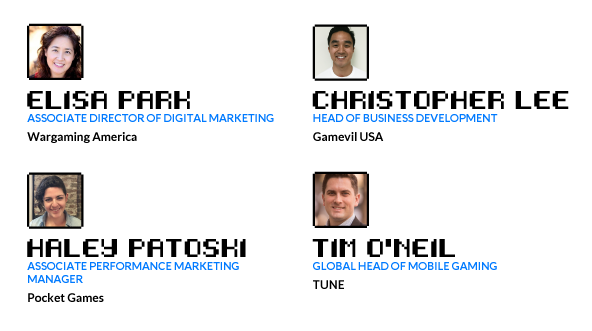 Get your copy today, and watch your mobile game rankings soar.
Author
Becky is the Senior Content Marketing Manager at TUNE. Before TUNE, she led a variety of marketing and communications projects at San Francisco startups. Becky received her bachelor's degree in English from Wake Forest University. After living nearly a decade in San Francisco and Seattle, she has returned to her home of Charleston, SC, where you can find her enjoying the sun and salt water with her family.