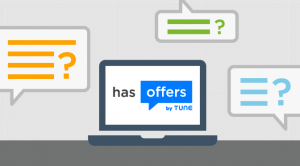 2019 Update: HasOffers has rebranded to TUNE! TUNE is the same great technology behind HasOffers, now enhanced with new tools and features for brands and networks. Read the rebrand announcement here.
---
Starting up an affiliate marketing network can be daunting—there are many new terms to learn and with the performance marketing industry changing so quickly, it can be difficult to keep up.
Here at TUNE, we value our customers and want to help them succeed. With 24/7 email support for all customers, 24/5 chat support, and dedicated account management for enterprise customers, we're here for you. We also have free online training courses to support our partners. This post is to answer the questions our support staff gets asked most frequently, in one place.
Performance marketing overview: There are three main players in the performance marketing industry: Marketers, ad networks, and publishers. Ad networks are the main bulk of HasOffers customers, and they work with marketers and publishers. Publishers are also known as affiliates or partners. Marketers can also be referred to as advertisers.
The basics
When first running a network, it might be a little confusing to differentiate between the two other parties in the performance marketing equation: publishers and advertisers. You may be wondering "What does each party do? Are they the same? How can I tell?" These are common questions for those who are new to performance marketing.
Q: What's an advertiser?
A: An advertiser is the party that owns the offer's product or service, and is outsourcing the task of advertising and managing a publisher network to an external network. The advertiser interacts with the network rather than directly with individual publishers. The network plays the role of mediator to manage communications with publishers, conversions, promote offers, and pay publishers.
Advertisers will pay the network for all the leads it has generated for them. They can monitor conversions from their panel in HasOffers and adjust leads if need be due to users refunding purchases, scrubbing leads, etc. At the end of the billing period, advertisers will pay the network for the leads generated which will in turn be paid out to publishers. The amount collected from advertisers is known as revenue in the system and reports. Networks might also regard this as "accounts receivable" in accounting terms.
Q: What's an affiliate? What's a publisher?
A: The terms affiliate and publishers are interchangeable. We will use the term publisher from here on. A publisher is a third-party entity that promotes your network's offers with the incentive of being paid based on users they refer and who convert on an offer. They're the driving force for all traffic to your network. A publisher can be a single person, a multinational company, or anywhere in between.
But aren't publishers advertising my offers? Aren't they my advertiser?
While the publisher does advertise the offer throughout the Web, in the performance marketing industry we do not call them advertisers. We define an advertiser as the party that owns the offer, and not the party that advertises it. In other words, the affiliate or publisher is "affiliated" with the offer, but does not own it.
Publishers are paid by the network, who is paid by the advertiser for leads and/or conversions generated. The term "offer payout" (also cost in the HasOffers reports) is the amount paid per conversion to the publisher. In accounting terms, this is known as the network's accounts payable.
HasOffers Platform FAQ
Q: If two publishers refer a sale, who gets the credit?
A: Our tracking system is designed to use the last-click tracking method. This means that the last publisher to refer the person to the conversion page will receive the conversion credit. In the event that an existing session for the same offer exists, your ad server will overwrite the existing session with the new session, and this includes the affiliate ID for the session. A different offer ID will mean a different tracking session and will not apply to the last-click method.
Q: Why are my conversions getting auto-rejected?
A: There are a few reasons for conversions to be auto-rejected based on settings you have set in your system. First, to view the reason for the conversion's rejection, view the conversion report by hovering over the report tab and clicking on the conversion report.
Next, in the top of the conversion report you will see an options menu, select the option status message in the data section of the options menu—this provides the reason for the status in the report.
One common error message you may see is no referral URL. This occurs when you have enforce conversion referral URL enabled, because this setting requires that a conversion be made with a referral URL along with it.. If your browser is blocking referrals, or you are firing the pixel in your browser, no referral will track and thus yours conversion will be rejected. You can disable it by going to company tab → customize application → tracking settings → enforce conversion referrals URL → disable.
The second most common reason is duplicate conversion.This displays when a conversion is made multiple times with the same transaction ID and the setting multiple conversions is disabled within the offer.
Q: Can the network owner be an advertiser?
A: There are many instances where the product/service owner might want to create and operate their own publisher network. Many HasOffers clients are in fact direct advertisers that want to run their own networks instead of working with an external network.
If you are a product or service owner that is thinking about starting your own publisher network, HasOffers is just as easily set up to run without third-party advertisers so you can work directly with publishers. By default, the advertiser panel is deactivated in your system, so, no changes are needed to disable this functionality.
Q: I clicked "forgot my password" and did not receive an email, why did this happen?
A: For all email communications in your network you will need to ensure that you setup a SMTP server.
Allow your network to use a custom SMTP email server for sending all email communications. By default, email is sent using [email protected]. Enable a custom email domain to send email using custom SMTP settings. Below are the settings requires:
Alternate SMTP host – Address of SMTP server.
Alternate SMTP port – Port on SMTP server to send mail.
Alternate SMTP type – Method SMTP server uses to send mail.
Alternate SMTP username – Username of account on SMTP server.
Alternate SMTP password – Password of account for username.
Alternate From Name – What the from address will display as the sender's name.
Alternate From Address – What the from address will display as the sender's email.
Test SMTP Settings – Email address to send a test email using the custom SMTP settings.
Q: I would like to learn more about your product.

A: Check out the onboarding documentation we have:
Have questions about billing? Check out our billing FAQ section.
Author
Becky is the Senior Content Marketing Manager at TUNE. Before TUNE, she led a variety of marketing and communications projects at San Francisco startups. Becky received her bachelor's degree in English from Wake Forest University. After living nearly a decade in San Francisco and Seattle, she has returned to her home of Charleston, SC, where you can find her enjoying the sun and salt water with her family.