This week the IAB launched the
first and only Quality Assurance Certification
.  In an effort to put more control over ad placement and context in the hands of the buyer, the IAB has developed this "compliance mechanism."  After completing a rigorous training, an extensive internal audit, and being assigned to a compliance officer, ad networks are given a seal to display on their websites verifying their compliance with the
Networks and Exchanges Quality Assurance Guidelines
.  Of course, before you can apply for this certification, you must be a member of the IAB.
"The Ad Network & Exchange Certification Program is the next step of the Quality Assurance Guidelines and marketers an extra level of comfort that companies carrying the IAB seal are brand safe and deliver what they promise," stated Randall Rothenberg, CEO of the IAB.
17 Ad Networks and Exchanges have already completed the training and received certification, but as I went to scan this list I expected to see names like Commission Junction and Azoogle popping out at me, but performance-based networks are mysteriously absent.  Is this because most performance advertising networks and exchanges are not compliant to the Quality Assurance Guidelines?  Or is it just that there were not enough affiliate networks represented on the committee.
Below is a sneak peak at what the seal looks like along with the first 17 Ad Networks and Exchanges to be approved.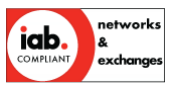 24/7 Real Media
Adap.tv
Adconion
AOL/Advertising.com
AudienceScience
BrightRoll
Burst Media
Casale Media
CONTEXTWEB
CPX Interactive
Google
Specific Media
SpotXchange
TubeMogul
ValueClick Media
YuMe
Traffic Marketplace
I would say that anyone in the ad/affiliate network space should at least be familiar with the Quality Assurance Guidelines.  They come complete with a Glossary of Terms to help homogenize the language used in online advertising, an area of communication that I must admit is deeply lacking.  The guidelines document also includes a very handy "Compliance Checklist" and "Buyer Complaint Form" that might help your network prepare for regulations to come.
I suppose the only potential problem I see with this certification process is that this industry is rapidly changing.  In terms of vocabulary, contextual taxonomy, inventory framework, etc. I'm not sure that these guidelines allow for growth, innovation, and evolution.  In fact, the very terminology used to describe the guidelines, "Ad Networks and Exchanges," may soon be thought of in an entirely different way.  However, I assume that the committee in charge of overseeing these guidelines will continue to make adjustments as our industry evolves and the companies involved transform.
The more affiliate networks embrace these guidelines and work with organizations like the IAB, the greater their chances of working with big brand advertisers.  Who is going to be the first big affiliate network to step up, comply, and get certified?
Author
A digital marketer by background, Peter is the former CEO of TUNE, the enterprise platform for partner marketing. In 2018, he sold TUNE's mobile measurement product to Branch, unifying measurement and user experience. He led TUNE's efforts to bring better management technology and automation to marketing partnerships, across affiliates, influencers, networks, and business development relationships. Follow @peterhamilton