2019 Update: HasOffers has rebranded to TUNE. TUNE is the same great technology behind HasOffers, now enhanced with new tools and features. Check out our new network features page or read the rebrand announcement.
---

Back when I first got into mobile marketing a few years ago, I could have never imagined having access to the robust API technology that we have today. As this technology has evolved, it's become easier to use and more accessible—forever changing how we build applications. Never before have so many designers (and non-designers) had the power and flexibility to create their own software. Now it seems, I can't imagine being without it!
I wanted to talk a little about my personal experience working with the HasOffers API integration. I've been able to leverage the platform to do some pretty cool things. In fact, the API has enabled me to provide my publishers with valuable data so they can optimize their campaigns.
I was first introduced to HasOffers back in 2010 when I used the tracking system while working with previous publisher networks and used the admin portion through another project. At the time, I found the solution to be extremely user friendly and very powerful for publishers. Because of my previous experience with the HasOffers system, I felt comfortable and confident utilizing the software in my most important project yet, OGMobi.
OGMobi is a mobile performance marketing network that provides content monetization tools for publishers and developers. I started OGMobi in May of 2014, after years of success in mobile marketing—mainly because I wanted to give OGMobi's publishers a platform to enhance their careers in the mobile monetization field.
When it came to building my own mobile marketing platform, I decided to leverage the HasOffers API to customize and show statistics that are most important for my publishers. In addition, the API allowed me to integrate OGMobi's monetization tools, as well as customize the design of OGMobi's dashboard. Specifically, utilizing the API gave OGMobi's publishers the ability to visually see stats by device, country, offer, date, etc. These statistics can be viewed through the default system; however, leveraging the API permitted me to display the data in a more visual way for quick analysis. Overall, the API integration provides OGMobi's publishers the power to see where their traffic is coming from and to ultimately use this information to make campaign tweaks for greater ROI.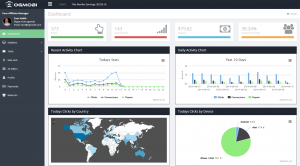 OGMobi Dashboard (click to enlarge)

Utilizing the HasOffers API has also given us the capability to integrate our content monetization tools, such as the mobile content locker and mobile pop-up widget. This allows OGMobi's publishers to see all the tracking data on the go—a really valuable feature.
I was blown away by how quickly the construction of OGMobi was with the HasOffers API integration. I relied a great deal on the API documentation and received additional help from HasOffers support staff. In my experience, there was nothing OGMobi could not achieve using the HasOffers API. I have to give credit to the infinitely useful "getStats" API call, as the majority of our statistics are generated from just this one API call.
The fact that I was able to do all this fairly easily is amazing. Am I a coding expert? No, not really. I started to teach myself how to code with various languages two years ago. And honestly, the thought of building a custom publisher network with HasOffers API seemed like a daunting task at first. But, having the right tools at my disposal gave me the confidence to take on the challenge.
The future looks bright for OGMobi. I'm excited to continue to grow the business and become a dominant force in the mobile monetization field. I'm thrilled to have found a solution in HasOffers that understands what's important to networks and supports that vision.
Read the full OGMobi case study here.
Author
Becky is the Senior Content Marketing Manager at TUNE. Before TUNE, she led a variety of marketing and communications projects at San Francisco startups. Becky received her bachelor's degree in English from Wake Forest University. After living nearly a decade in San Francisco and Seattle, she has returned to her home of Charleston, SC, where you can find her enjoying the sun and salt water with her family.