Would you pay $1/year to avoid all ads in all apps? Considering how hot mobile ad blocking is getting, you might be tempted to say yes.
If you did, however, you're in a very small minority of mobile users. Only 11.3% of the almost 4,000 smartphone owners we surveyed for a recent study agree. And while 4.5% would pay 365 times more — $1/day — and 10.4% would pay $1/month, almost 70% of smartphone owners would not pay a single penny to skip mobile advertising.
That's actually great news for mobile marketers.
Essentially, even though mobile users tend to complain about advertising — and there are certainly cases of over-monetization — it's not at the pain point where most people are willing throw actual money at the problem. And with new initiatives like Facebook's instant articles and Google's accelerated mobile pages, a cleaner, faster, and more usable mobile web experience is getting more and more common.
Ultimately, the goal is that the right people see the right ads at the right time, and the closer we get to achieving that, the fewer ads need to be shown.
Interestingly, while there are multiple web tip jar initiatives like Optimal or Contributor which attempt to replace advertising with a pay-for-content-you-like model, nothing similar exists for all mobile apps.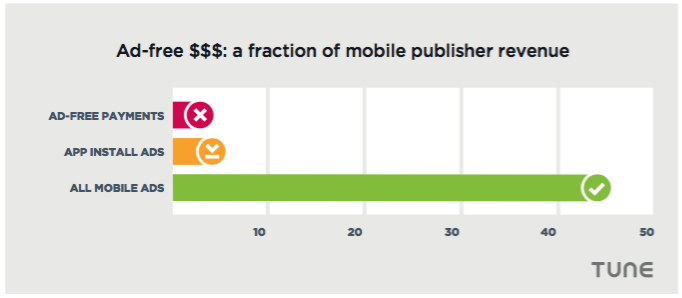 There's probably a good reason for that — even if there was a way for people to pay to avoid seeing mobile ads, the amount that this system would raise would only be a fraction of mobile publishers currently pull in. Add up the totals, you'd come to $3.62 billion in the U.S., less than 9% of the total revenue that publishers will earn via mobile advertising in 2016.
As one app developer quoted in the report said:
"The sad truth is that advertisers pay more than users ever do… users need to be coaxed into buying things with careful design, and even then you only convert a small percentage of them. Basically: the advertisers are out-bidding the users."
The 70% who won't pay are the problem, of course, if you want to build an ad-free mobile ecosystem. There's a reason why more than half of all apps have adopted a freemium monetization model over the past few years, but when 60% of in-app revenue comes from just .23% of mobile users, advertising is the primary remaining solution to compensate mobile publishers for their ongoing efforts.
In fact, if a no-mobile-ads paid solution could be created, 5% of mobile users would be contributing 80% of the revenue: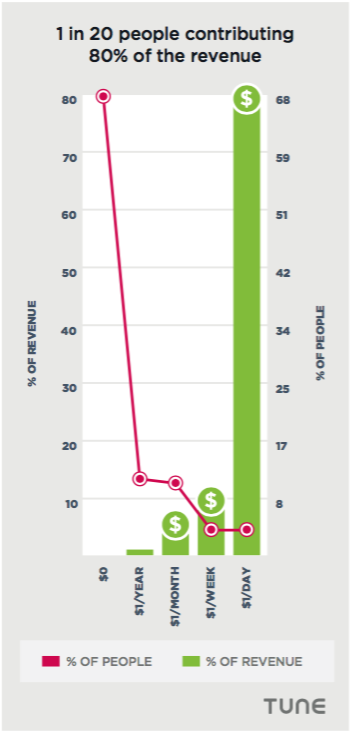 The full report is available for free from TUNE.
Interested in learning more? Register for our free webinar, "Immobilized: Is Mobile Ad Blocking the End of Mobile Marketing?"
Like this article? Sign up for our blog digest emails.
Author
Before acting as a mobile economist for TUNE, John built the VB Insight research team at VentureBeat and managed teams creating software for partners like Intel and Disney. In addition, he led technical teams, built social sites and mobile apps, and consulted on mobile, social, and IoT. In 2014, he was named to Folio's top 100 of the media industry's "most innovative entrepreneurs and market shaker-uppers." John lives in British Columbia, Canada with his family, where he coaches baseball and hockey, though not at the same time.