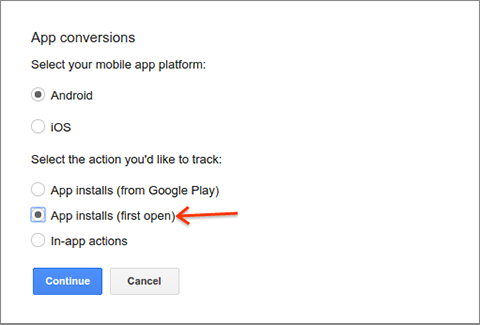 Recently Google AdWords began announcing significant updates to the methods used for measuring your AdWords mobile app install campaigns. Below is a summary of the upcoming AdWords updates and the corresponding changes to the AdWords – TUNE integration setup.
Final URL and Tracking Template to Replace Destination URL
AdWords has slowly been rolling out the new Final URL, so perhaps this isn't news to you. Here's the skinny on the new Final URL and Tracking Template setup. Keep in mind that using a Destination URL may still be a valid option in your Adwords account and that's just fine. At some point your account will be auto-updated.
Old Method: Using the MAT measurement URL as the Destination URL
Before you could just copy and paste a MAT measurement URL in the Destination URL field. As the MAT measurement URL included your app's app store landing page, new users would be taken to the app store to download your app.
New Method: Final URL = App Store URL & Tracking Template = MAT measurement URL
The upgraded URL flow separates out the destination URL – your app's app store landing page – from the 3rd party click URL you use for attribution. Your ad's final URL will always be your app's app store landing page and automatically loads when setting up an AdWords campaign.
To add your MAT measurement URL, simply click Add URL options (advanced) and paste your MAT measurement URL into the Tracking template field as seen below.
NOTE: There is no need to upgrade your URLs yourself. Google AdWords will automatically upgrade all TUNE clients' destination URLs to ensure seamless migration and continuous campaign measurement. Upgrading your URLs before the automatic upgrade by Google may trigger the AdWords ad review process and restart your ad stats.
App Install Confirmation (Postbacks) for Android
If you're already running mobile app install campaigns for your iOS apps, then you're most likely familiar with AdWords' app install confirmation that instantly confirms which installs (first app opens) were driven by your AdWords advertising.
The same process is now available for Android apps as well and requires creating new conversions for your Android app installs (first open) and setting up postbacks in both your MAT and AdWords accounts. Creating an Android app installs (first open) conversion event and setting up postbacks is the preferred method as it's the most accurate conversion measurement method.
NOTE: The new Android App Install (first open) conversion type is not a replacement for the existing Android conversion type for app download. The old conversion event has been renamed to "Android App install (from Google Play)". These two conversion types measure two different things – the new conversion event measures the first time a user opens the app, whereas the old conversion event measures the install of the app itself (without it being opened).
If you use Target CPA bidding, you can choose to optimize for the app download (default section) or switch to optimize for the first app open. If you choose to optimize for the first app open, please disable biddability of your app download conversion event first – only optimize for one event at a time.
Third Party Tracking URL Deprecation for Android on the Search Network
On July 20, AdWords will stop serving third party click URLs for Android mobile app install campaigns on the Search Network only.
What does this mean for you as a MAT client using our click measurement URLs? Well it comes down to whether or not you're passing MAT optimization parameters in your MAT click URL. If not, there's nothing you need to do!
If you always included our optimization parameters – my_campaign, my_ad, my_keyword, etc. – in your MAT click URL, for new campaigns you'll need to now include them in the Final URL by passing them URL-encoded in their referrer parameter. For your current Android Search campaigns, please contact your account manager and we will work with you to manually update your URLs.
Old Method: Using the MAT measurement URL with optimization parameters as the Destination URL
New Method: No MAT measurement URL –> append URL-encoded MAT optimization parameters in the referrer of the Final URL

Of course all of these updates are already included in our AdWords integration setup guides complete with AdWords setup and screenshots for you to reference at your convenience.
As always, please reach out if you have any questions regarding your AdWords – TUNE integration setup by contacting [email protected] or your dedicated account manager.

Like this article? Sign up for our blog digest emails. 
Author
Becky is the Senior Content Marketing Manager at TUNE. Before TUNE, she led a variety of marketing and communications projects at San Francisco startups. Becky received her bachelor's degree in English from Wake Forest University. After living nearly a decade in San Francisco and Seattle, she has returned to her home of Charleston, SC, where you can find her enjoying the sun and salt water with her family.