With iOS 9 last year, Apple introduced a new way of deep linking users into an app, known as Universal Linking. Universal Links are a fast, seamless method of getting users directly into your app, without any dialog boxes or app switching, which is common in the URL scheme method of deep linking. However, Universal Links are not only difficult and costly to implement, but also do not support redirects, therefore making it hard to measure link performance.
TUNE makes it easy to implement and track Universal Links
TUNE is happy to announce that we support Universal Links for iOS apps, and we have taken care of the hard part; one code change and one piece of information from your Apple developer account, and the implementation is  done and tracking is set up! All measurement URLs will now be configured to use Universal Links to guide your users to the app.
To leverage Universal Links with TUNE attribution for your iOS apps, please follow the "Implementing iOS Universal Links Setup" instructions on our developer site.
Once your app is set up to support Universal Links, you'll be able to enable the Universal Link setting in Attribution Analytics. To enable Universal Links for all your iOS apps, toggle the Universal Links setting to "enabled" in the applications section under settings. Once enabled, you'll need to provide your Apple Developer Team ID.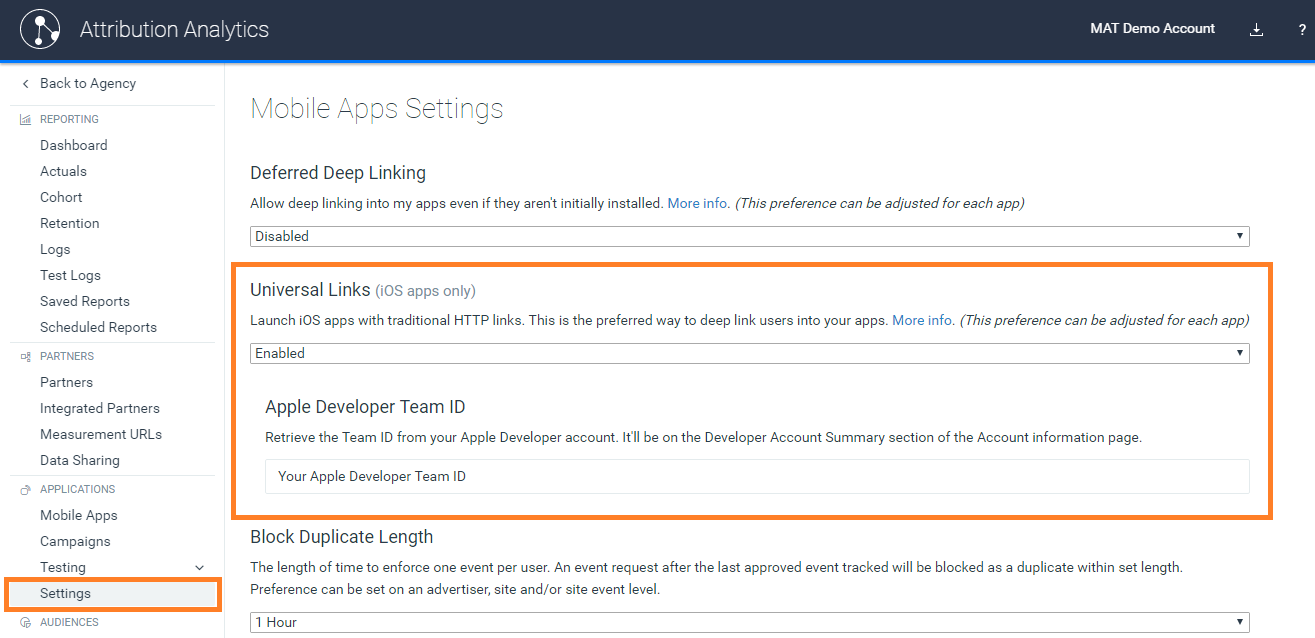 Universal Links can also be enabled on a per app basis. Select an iOS app from your Mobile App list, then toggle the Universal Links setting to "enabled" on the "edit app" page.
Once again, here are complete instructions to set up iOS Universal Links.
Like product updates like this? Sign up for our daily blog digest emails to get them straight in your inbox.
Author
As General Manager of the TUNE Marketing Console, Ian is responsible for building products that simplify app marketers' lives and increase their advertising performance across all channels, including paid, earned, and owned. Ian joined TUNE in 2014 through the acquisition of MobileDevHQ, the industry-leading inbound app marketing solution, where he was co-founder and CEO. MobileDevHQ was a member of the TechStars Seattle class of 2012 and Ian is still involved with TechStars as a mentor and investor. Prior to starting MobileDevHQ, Ian was a Software Engineer with Amazon.com on their Traffic, Personalization and Website Platform teams. A Detroit native and Seattle transplant, Ian studied Computer Science at the University of Chicago.