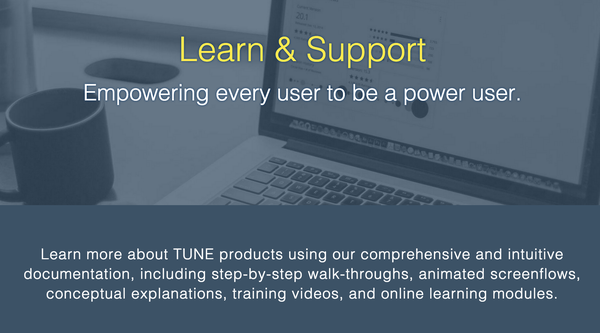 TUNE isn't just a pretty face with great products — we've got the product knowledge to back it up and we want to share all of that amazing knowledge with you.
Hopefully you're already taking full advantage of all our support resources, including our extensive knowledge base articles and live training webinars. If not, now is a great time to start with our new unified Learning & support portal for all of the TUNE products.
What can you find on help.tune.com? Well, everything related to product support and learning! Looking for a past training webinar that you missed due to a meeting? Trying to find a walk-through of setting up a postback for your partner? Got a developer who needs some SDK code for your app so you can use deferred deeplinking? Whatever you need, we've got you covered.
Currently the new unified Learn & Support page is a portal to our singular support sites across all of our products. However, this is just the first step towards achieving our mutual goals of a unified TUNE support experience and empowering TUNE users.
Stay TUNEd to find out what happens next!

Like this article? Sign up for our blog digest emails. 
Author
Becky is the Senior Content Marketing Manager at TUNE. Before TUNE, she led a variety of marketing and communications projects at San Francisco startups. Becky received her bachelor's degree in English from Wake Forest University. After living nearly a decade in San Francisco and Seattle, she has returned to her home of Charleston, SC, where you can find her enjoying the sun and salt water with her family.