Guaranteed exposure to your existing Facebook page fans sounds like an obvious way to increase engagement with posts. People who like your page are theoretically interested in either your company or your market segment. While I can't prove the interest level of an individual Facebook user, you aren't guaranteed someone will pay attention to your posts and engage just because they liked your page.
In fact, there's a good chance people who never liked your page in the first place will be more likely to interact than those who did. After comparing the Facebook Promoted Post performance to Facebook Ads, I found Facebook Ads more effective at driving engagement.
Following my initial report, several people asked how Promoted Posts compare to Sponsored Stories. Based on our testing, Sponsored Stories drive far more engagement than Promoted Posts. Read on to find out how things break down.
What's The Difference Between a Promoted Post and a Sponsored Story?
Before I dig into the performance results of our Sponsored Story vs. Promoted Post test, I want to clear up some confusion about the two types of advertising. Both receive the "Sponsored" designation next to the content of the advertisement, but these are two very different types of advertising in the Facebook universe.
Promoted Posts
When Facebook launched the Promoted Post feature for brand pages, it created some confusion for people doing ad buying. The feature appears as a Promote button attached to any status update you make on a brand page. From $5-50, you can increase the reach of your post by getting it in front of more people who previously liked your page.
I say this is confusing because a number of Facebook page managers assume that if someone likes their page, that person will see updates about the page in their news feed. The reality is that people who like a page stop seeing updates in their news feed if they aren't interacting. A Promoted Post is a way to get the post in the news feed of fans who are no longer seeing your updates.
When you run a Promoted Posts campaign, the post appears in the news feed of fans who are no longer engaged. The same story will also appear organically for anyone who is engaged with your page.
Based on my own experience with Promoted Posts (and the stats that show additional views), Promoted Posts increase the number of times the same person is presented with a post, because the total number of views for a Promoted Post always exceeds the total unique views.
Sponsored Stories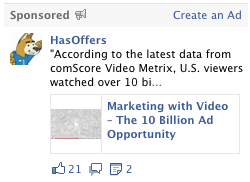 Sponsored Stories are Facebook Ads that appear in the same places Facebook inserts other ads throughout the site. While they can be specific to your Facebook page, we primarily focus on promoting individual posts from our page. You can see the example Sponsored Story used in compiling the data for this post to the right.
Aside from the obvious difference in appearance and placement, Sponsored Stories are also different in terms of targeting. Promoted Posts go to people who clicked Like on your page. Sponsored Stories appear for people based on the targeting criteria you set up. Some of the people who see your Sponsored Story could be existing fans, but all of them will fit the target demographic you define. A Sponsored Story campaign will also be shown to targeted Facebook users multiple times throughout the course of your campaign, increasing the exposure per user.
Performance of Sponsored Stories and Promoted Posts
We ran a Sponsored Story and Promoted Post for a recent post on marketing with video. For the Promoted Post, we selected the maximum reach from our 3,000 fans for $30. For the Sponsored Story, we configured a campaign targeted at people who like affiliate marketing related topics from North America, Europe, and Australia for a potential reach of 492,240 users. The actual number of people who saw the Promoted Post was 1,449. The actual number of people who saw the Sponsored Story was 37,745. The actual cost of the Sponsored Story campaign was 2.74x the Promoted Post campaign. You can see in the graph below how the campaign performance breaks down.

Cost per click for the Sponsored Story was a little less than half the CPC for the Promoted Post.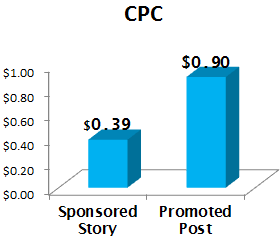 Conclusions
Targeting people based on interests remains the most effective way to capture engagement. The only area where the Promoted Post outperformed the Sponsored Story was in Social Reach. This makes sense because there are many people who Liked the page who are friends. Social Reach is only valuable if it increases engagement, which appears to be unlikely considering the outcomes of both campaigns.
If you include Actions, which are page likes, link clicks from the page (not from the ad), and page post likes, the CPC difference is even greater. The Promoted Post comes in at $0.50 CPC, while the Sponsored Story is a mere $0.15. Once again, I'm left with strong evidence that Promoted Post campaigns are far less effective than any other advertising mechanism available on Facebook.
Author
Becky is the Senior Content Marketing Manager at TUNE. Before TUNE, she led a variety of marketing and communications projects at San Francisco startups. Becky received her bachelor's degree in English from Wake Forest University. After living nearly a decade in San Francisco and Seattle, she has returned to her home of Charleston, SC, where you can find her enjoying the sun and salt water with her family.