Mobile marketers are more data-driven than ever before. Data is critical to understanding where customers are coming from, who they are, and how you can crush your performance goals. But have you mastered the three basic reports every marketer should know, love, and leverage?
Over the next few weeks, we'll be diving into these three powerful tools. If you want a sneak peek, download our white paper, "3 Basic Reports Every Mobile Marketer Needs to Master." This week, let's take a look at the broadest window into campaign data: the Actuals Report.
The Actuals Report
What it shows
The Actuals Report displays ad impressions and clicks, then links the traffic source to installs, opens, events, revenues, publishers, and more. The report can be segmented by app, partner, campaign, country, region, and day, to name a few. It can also filter by device type, platform and OS. 
What it looks like
Below is a screenshot of a fictional music app called MobileMusic, measuring clicks and attributed installs associated with a particular publisher and partner campaign.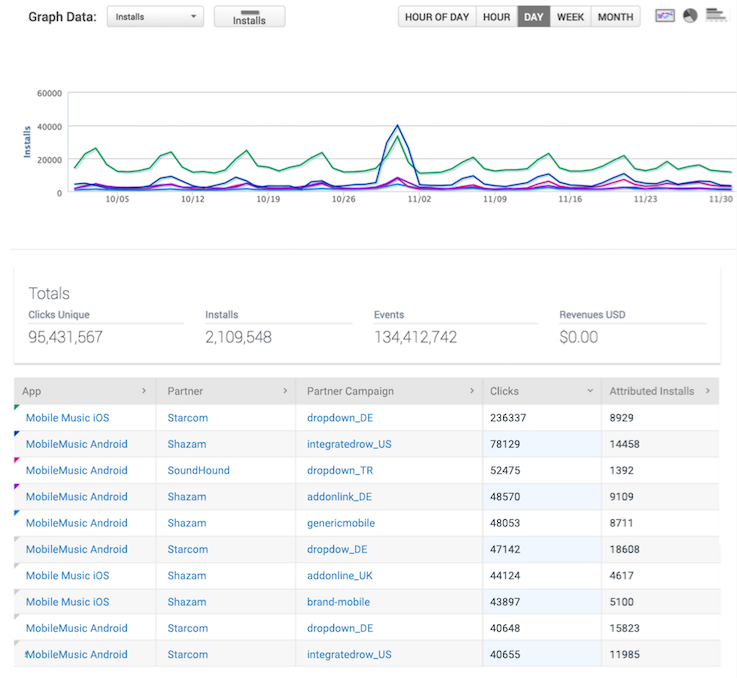 How it can skyrocket performance
Through the Actuals Report, you can identify the total clicks and installs on a daily, weekly, or monthly basis, enabling you to establish benchmarks and make responsive adjustments. You can also use the report to determine the revenue associated with a particular partner, agency, or region, to identify top performers and allocate spend accordingly.
There are a multitude of other uses and ways to slice data within the Actuals Report. So many, in fact, that we created a white paper to give you an in in-depth look into the Actuals Report and a few essential others. It's the perfect tool for transforming loads of data from something to trudge through, to something to leverage and even master.

Download your own copy of "3 Basic Reports Every Mobile Marketer Needs to Master."
Like this article? Sign up for our blog digest emails.
Author
Becky is the Senior Content Marketing Manager at TUNE. Before TUNE, she led a variety of marketing and communications projects at San Francisco startups. Becky received her bachelor's degree in English from Wake Forest University. After living nearly a decade in San Francisco and Seattle, she has returned to her home of Charleston, SC, where you can find her enjoying the sun and salt water with her family.