The web has always been intended to connect information and people, enabling content to be shared. As the move towards mobile has picked up speed, much of this information has been siloed in apps – to the disdain of app developers. Social networks have become one of the primary methods new apps are discovered, whether by organic reach or paid advertising. A key aspect of the user experience at the top social networks (especially Twitter) has always reflected the original intent of the web, enabling users to connect and share information as easily as possible. One of the barriers that have always remained, however, is how users share information between other apps.
To break down these silos, Twitter has released new Cards that allow users to directly download an app from a tweet if content from the app was mentioned in that tweet. Alternatively, if a user already has that app, a Twitter user could choose to view content tweeted from another app in that app, instead of inside of the Twitter app.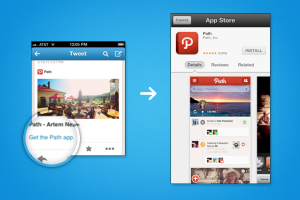 In a blog post announcing these new features for app developers, Twitter said that "By adding these new footer tags to your markup, you'll be able to specify downloads for users who've not yet installed your app on their device. This will work across iPhone, iPad, and Android (Google Play)." Additionally, Twitter explains that "If a user does have the application installed, you can specify a deep-link into the correlated resource within your own application. When a user clicks on the "Open in app" tap target, Twitter will send that user directly into your application."
Clearly, Twitter is making this move to help mobile app developers increase conversions (downloads) by linking directly to apps in the app store (Play & iTunes) from within tweets – and not just organic tweets. The ability to drive app installs and deep-linking with these new cards could be a huge advertising opportunity for developers if they simultaneously leverage Promoted Tweets to reach potential users.
Additionally, these new cards create a better mobile user experience by simplifying the app download process and making it easier for users to access tweeted content from within the native app that generated it.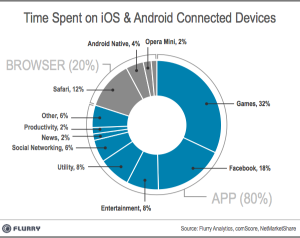 As 80% of mobile time is now spent in apps, and advertising dollars are shifting to mobile from the desktop even faster than expected (representing the shift of users to mobile from desktop), it's never been more necessary to connect mobile users between apps. With these new Cards, Twitter is not only making a point that they are ready to capitalize on these trends, but they are ready to create the best user experience possible in the mobile environment – and position itself as the preferred social network for not just consumers, but also developers and advertisers.
Author
Becky is the Senior Content Marketing Manager at TUNE. Before TUNE, she led a variety of marketing and communications projects at San Francisco startups. Becky received her bachelor's degree in English from Wake Forest University. After living nearly a decade in San Francisco and Seattle, she has returned to her home of Charleston, SC, where you can find her enjoying the sun and salt water with her family.