Sometimes, it seems like the world is inundated with advertising. There are ads on the radio. Ads on TV. Ads on billboards and bus stops. We call baseball parks Citi Field, and football stadiums Mercedez-Benz Superdome. Tennis matches are the Ricoh Open, and the magazines, papers, and junk mail that still make it to our doors is full of commercial messages.
Isn't it enough?
It's probably too much, but maybe not on mobile. At least, not in the way you might think:
If a magic delete-all-mobile-ads button materialized in our offices, schools, or homes today, and for just $1/month we could press it and somehow vanquish all ads from all our apps and all our mobile web browsing — from our entire phone — only 20% of us would press it. if it cost $1/week, only 10% of of us would press it.
And if it cost $1/day? More than 95% of smartphone owners would not press the button.
What that tells me is that people actually don't mind mobile advertising. And maybe, they even kind of like it, or at least get some value from it. Because $1/day is less than what people spend on water, or coffee, or gas. $1/week is something the more fortunate of us wouldn't even notice going missing. And $1/month is — again for most — an insignificant sum.
Don't agree?
In fact, 70% of us wouldn't spend even $1/year to skip all mobile advertising.
In addition, almost 90% of iOS users and more than 80% of Android users don't turn on the setting on their phones to limit ad tracking. In other words, they are giving up some of their privacy — not much, advertisers generally target to anonymous groups — in return for somewhat more relevant ads.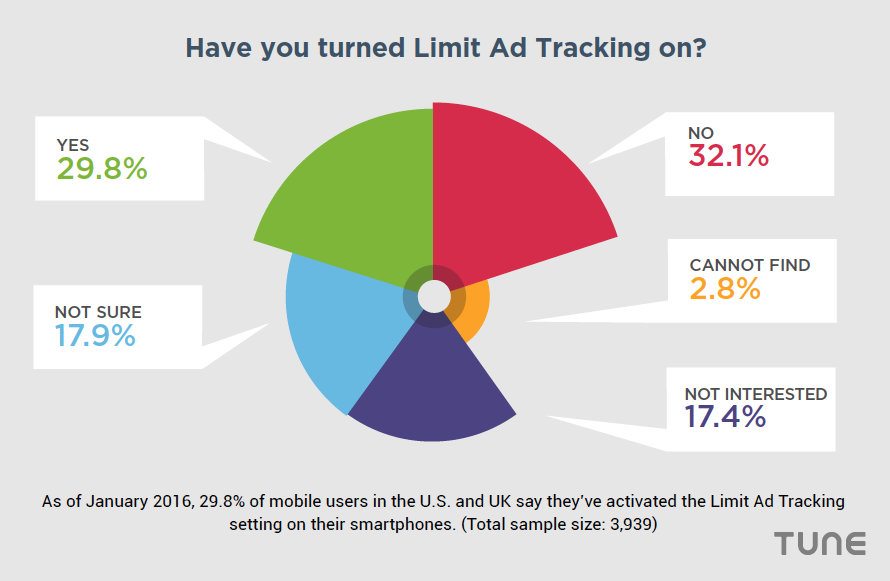 That tells me that mobile advertising, especially at the level featured in Instant Articles or Accelerated Mobile Pages and doesn't interrupt great user experiences, is something that smartphone owners are OK with.
And maybe, in some cases, even like.
That was the case with me. I downloaded the Touch of Modern app probably over a year ago. But not until seeing a retargeting ad for a particularly cool watch did I ever buy anything. The ad was useful, it was relevant, it was timely … and it worked.
The goal now? Make all ads more like that.
Like this article? Sign up for our blog digest emails.
Author
Before acting as a mobile economist for TUNE, John built the VB Insight research team at VentureBeat and managed teams creating software for partners like Intel and Disney. In addition, he led technical teams, built social sites and mobile apps, and consulted on mobile, social, and IoT. In 2014, he was named to Folio's top 100 of the media industry's "most innovative entrepreneurs and market shaker-uppers." John lives in British Columbia, Canada with his family, where he coaches baseball and hockey, though not at the same time.