What did you think of AdTech?  Take a Poll
I can safely say that HasOffers had an amazing experience at last week's Ad:Tech.  I have to start off this post by saying thank you to all those that came by our booth with excitement about HasOffers.  More than any previous show, we were showered with accolades enough to make us blush, and it was simply incredible to feel the thanks and encouragement from so many fantastic customers as well as new businesses that just turned on our tracking.  So if you were one of those people, thank you so much for speaking your mind.  It helps us know we're on the right track.
Performance Marketing Leadership Summit
Some of the HasOffers team started off our week in San Francisco at Offervault's Performance Marketing Leadership Summit.  We sponsored the event for the first time, and our CEO sat on a technology panel.  To be perfectly honest, the event got off to a very slow start and I was a little concerned about how the panel would go later in the afternoon, but Ryan Pamplin from Ryactive.com picked up the pace considerably in his keynote, and woke the audience up.  He covered dozens of technologies and shared some very strong opinions.  Though I can't say that I agree with everything he said, his candor and passion were remarkable.
The panel discussion that followed was one of the better panels I have listened to in years.  Everyone was passionate about our industry, knowledgeable and experienced.  There was some unintentional HasOffers plugging since the panelists had first hand experience with our application, but over all, I think the group came to the consensus that tracking technology is still incredibly lacking.  This of course gives us so much encouragement to keep up our diligence on the new technologies we are developing and makes us extremely anxious to keep pushing out new innovation.  I actually have the video footage from this panel, but have not had time to edit.  So look out for that.
Here's a shout out to all the people on the panel:
Ad:Tech Expo
The expo hall opened at 10AM the next day and attendees poured onto the floors.  Notice that was plural.  Yes, the Ad:Tech exhibit hall was separated on two floors this year, and HasOffers was on floor two.  I must say that I was not a fan of the multi-level setup at the beginning, thinking that nobody would really get up to the second floor, but after visiting the first floor, it really seemed that we had fairly equal distribution.  I do think the first floor had more traffic in the morning as people moved upstairs toward the afternoon, but the two levels really allowed attendees to break up the expo hall into two more digestible groups.
The afternoon of the first day was certainly the most packed for us.  Clients from around the world, new eager business owners, and just plain fans stopped by to talk affiliate tracking.  It even seemed that the people we talked to were more relevant than past Ad:Techs, or maybe the second floor helped us weed out the crazies.
Best of the Ad:Tech Expo
Best New Technology – BlueCava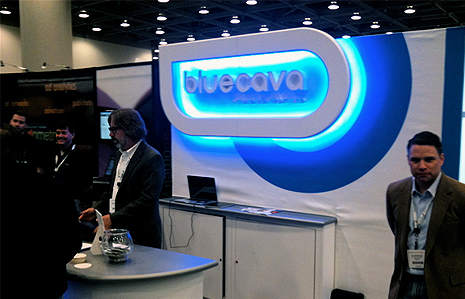 BlueCava was actually mentioned by one of the panelists at the Leadership Summit the day before, and so I had to check it out.  This company has built a business around browser fingerprint technology.  This allows them to pull a unique identifier for individual users based on their browser fingerprint (rather than IP or device ID).  They then have an API so that companies tracking users can add this as an identifier and follow the user across multiple advertising channels.  Though we have been aware of browser fingerprints for some time, this is the first time I have seen a technology provider strike out to make a profit from it.
Most Visibility – Google
Google always gets lots of attention at every show they go to, but this one was really front and center.  As the very first thing you see when you entered the bottom floor, it was incredibly difficult to miss their all too familiar brand.  The interesting thing is that Adwords, Adsense, or even the Google Affiliate Network were not the focus of their exhibition.  Instead, Google Analytics is the product they were pushing.  Wait, but isn't that product free??  Yes I understand their are pricing packages above 5 million page views per month (if your company does not have an active AdWords account). Perhaps Google Analytics is their best lead generation platform?  As you walked past their booth you noticed that they positioned the Double Click booth back to back. Maybe they work the sale on the awesome free tools they have and then pass them around back when the attendee is worth their time.
Other Exciting Companies on Exhibit
Ozonion – This network out of Brazil is exploding.  On top of that, they are developing a new technology for helping any advertiser easily create and optimize campaigns.  You've got to check out their new beta page.  Looks like it's going to be pretty sweet.
Acquisio – These guys are true road warriors.  It seems like I see them at every show that matters and they are always on the cutting edge.  They have built a performance media platform that basically helps companies manage and optimize all of their media across channel.  Really slick stuff, plus I have to give them a shout for their amazing t-shirts.
Adperio – I noticed Adperio getting a lot of attention at their booth this year.  Though they've been around for nearly ten years, it looks like they've got a very innovative team, always looking for new innovation.  Plus, they have offers to match just about anything.
Mundo Media – I have to give a shout out to our awesome booth neighbors.  Mundo Media seems to be everywhere we are this year, and they are doing an incredible job. They have a fun team, and their booth was packed with interest the whole show. Solid.
Party Party
HasOffers had some amazing meals and wonderful company this year at Ad:Tech, and though we were pretty busy having a little too much fun with our clients we managed to make it to the Advertise.com 10 Year Anniversary Party.  Though the parties in San Francisco are usually a little less extravagant than New York, I have to say that Advertise.com did a great job.  As you entered Ruby Sky, a professional photo crew shot your party against a red carpet, which you could tag on Facebook (Check us out!). Then you went through the narrow hallway into the awesome open space with staged DJ, projector, live dancers, and a packed dance floor.  I don't know what it was, but I definitely saw more people actually on the dance floor than you usually see at these tech parties.  All in all, it was a great time and perfect for building relationships with so many great businesses.
Were you there?
What did you think of Ad:Tech San Francisco 2011?  What was your favorite new company or who had the best booth?  What did you learn and who did you meet?  Let us know in the comments below!
Author
A digital marketer by background, Peter is the former CEO of TUNE, the enterprise platform for partner marketing. In 2018, he sold TUNE's mobile measurement product to Branch, unifying measurement and user experience. He led TUNE's efforts to bring better management technology and automation to marketing partnerships, across affiliates, influencers, networks, and business development relationships. Follow @peterhamilton