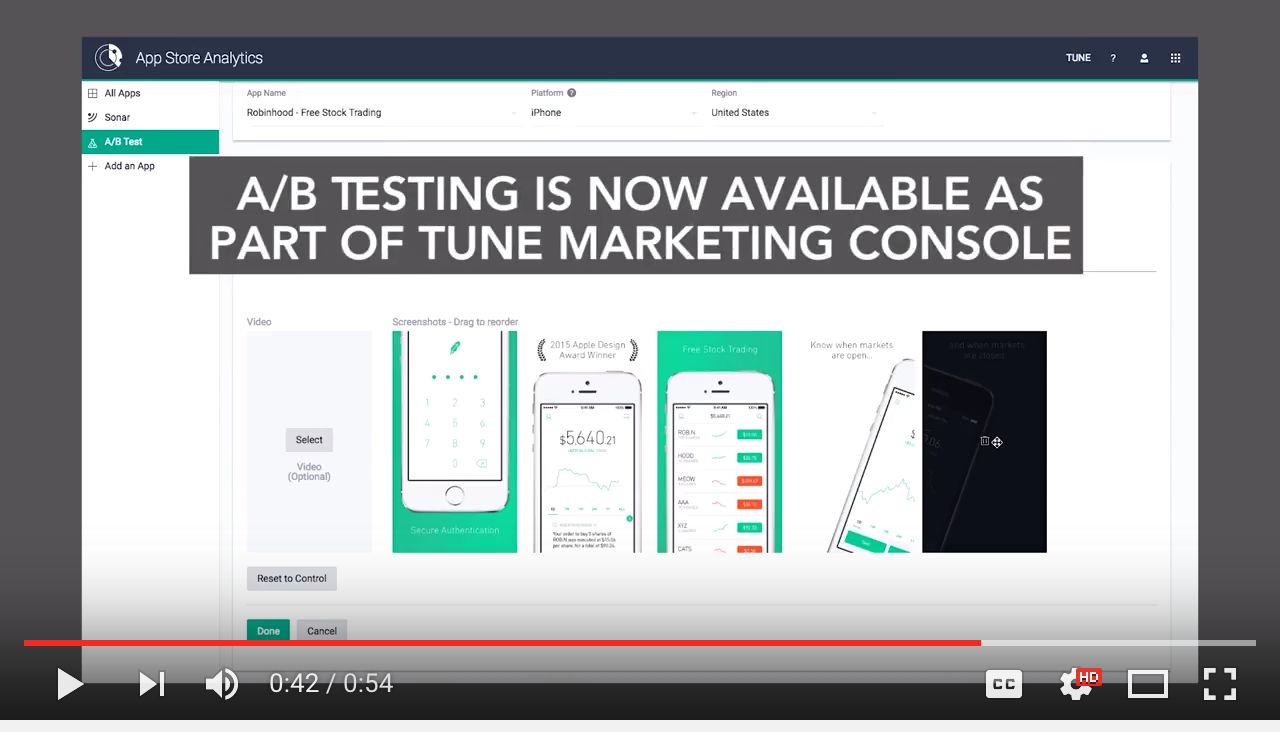 Getting App Store Analytics A/B Testing in the TUNE Marketing Console for free as an Enterprise customer makes your job easier and more centralized by allowing you to see the full user conversion funnel – from ad click to install to retention – in a single platform. Watch the A/B Testing video to learn more.
Offline Analysis is Easier with New Export Builder in App Store Analytics

Doing offline analysis on your app store keywords just got easier. You can now use the new Export Builder in App Store Analytics to export data immediately — instead of waiting for TUNE to pull reporting to email it to you — while gaining flexibility in the data you export. You can select one or many of your apps and specify a region, date range, and what data you'd like to export, including currently ranked keywords, keyword volume, difficulty, category, and rankings. View the technical documentation for details on how to use this feature.
iOS Bundle Lookup Tool Makes Apps Easier to Add in TUNE Marketing Console

A handy new iOS Bundle ID Lookup Tool has been created to help you easily add your apps in the TUNE Marketing Console (TMC) and troubleshoot your SDK integration (if needed). This new tool makes it easy to find the package name for iOS apps so you can avoid having to search for it when you or your agency are working with your developers to integrate TUNE's SDKs into your app. Read the technical documentation to learn more about finding your app's package name.
Take Advantage of the Latest TMC Functionality
Interested in what new functionality is available in the current TMC SDKs? View the change logs below to learn more.
Like this article? Sign up for our blog digest emails.
Author
This post was provided by a guest contributor. To check out posts by our most frequent authors, subscribe to our blog.