For the Tokyo stop of our global city tour, we brought together our top clients in Japan to share their marketing expertise with over 100 marketers and agency leaders. This was an especially exciting event for us to host because is also marked the opening of our TUNE Japan office.
TUNE city tour – Tokyo! ?? #mmcitytour pic.twitter.com/gmTOhSuWuQ

— Jennifer Wong (@JenerationY) March 29, 2016
These marketers took the stage to have a candid conversation about their challenges in mobile marketing and share the strategies they have found to be successful in driving the best marketing results. The influence and engagement of consumers in the Japanese market on mobile are perhaps the most advanced. Here is the the transcript from the panel discussion translated from Japanese to English.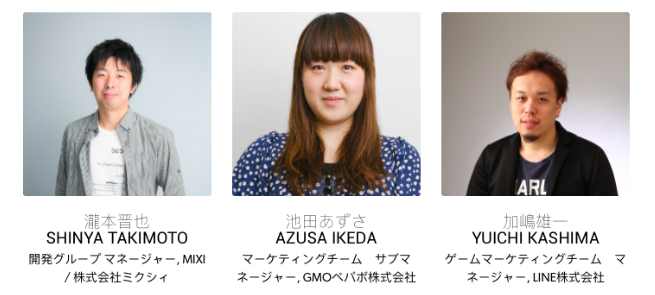 How has your mobile strategy was changed before and after adopting the TUNE Marketing Console?
Ikeda (GMO): We didn't have any knowledge of how to to select the advertising well. One of the first things we did was to evaluate the tools we should use. We got information from advertising agencies and companies who had useful tools. However, we wanted to have our own data available to us and also wanted to know how to make use of it before we started marketing. A decision maker on our team found the right company — TUNE — and we started to work with them.
Takimoto (Mixi): When we released an app called "Monster Strike" for our North American market, we asked local developers and publishers what company we should work with. After discussing, we chose TUNE. We introduced their technology into Monster Strike for North America. After that, we used it for the same app for Japan too. Only TUNE could deliver functions like manual data entry, measuring re­-engagement ads, and API. 
Kashima (LINE): We have used TUNE since 2014. We were primarily developing casual game apps at that time and mainly using in-house marketing menu. As you know, we recently released middle games and hardcore games. Then we realized we had to choose different media partners for each game. Consequently we started to discuss with TUNE and decided to adopt it. After starting to use it, we could see each a return on assets (ROAs) for each game genre. It means TUNE was really effective to us.
How has TUNE contributed to your company's growth?
Ikeda (GMO): TUNE's tool is the first tool we chose to use and it has been adding a lot of value for us. Before using TUNE, we had to ask our media and advertising agencies to give us the necessary data. It was an inefficient task. By contrast, with TUNE, we can see this information instantly. The more media partners we worked with, the more usefulness we found in TUNE.
Now, we use cohort analysis reports in order to report on ROAS (return on ad spend) and to understand the analysis of user's behavior. When we have TV ads, we can keep tracking how people behave differently when an ad is on TV and when not on TV. So TUNE is very useful for analytics.
The term "cohort" may be unfamiliar to some audience here. It means "extract just the users in a fixed period and you can find how they contributed to sales so far." Ikeda said she can evaluate ROAS with it. How about you Takimoto?
Takimoto (Mixi): There are three reasons we choose TUNE:  First— it works globally. For example, in the cohort management screen, we can easily extract data from various apps from different timezones. Second — TUNE has useful functions for us and advertising agencies. For example, if we set an app and a medium for an agency, the agency can only see the area we provide. Because we use it in­ house, it's very important for us that we can split the workspace for us and agency. Third — reengagement. As Google mentioned in their presentation, product life cycles of mobile games are generally very short. We want to extend it; we want our customers to play our apps longer. Now we can do marketing for existing user on a scale like new users. It's very important for us.
Kashima (LINE): We use our internal BI tool and the TUNE Marketing Console together. People in charge of the BI team are always monitoring it. Approximately 70 people look at management screens and make reports. TUNE provides a big contribution. As Takimoto from Mixi said, we also have several games which have been for sale on the market for a long period like "LINE TSUM TSUM", "LINE POP", and "LINE POKOPANG".

I'm glad to hear both of you talked about its functionality. LINE and mixi are game companies. So, as a person responsible for commerce, what do you think about it, Ikeda?
Ikeda (GMO): I suppose the traffic volume of gaming apps is higher than ours. So, I think TUNE has stable system servers.
Takimoto (Mixi): The number of people using TUNE is increasing in my company. As I heard today, TUNE is used by people in various divisions within companies. We'd like to use TUNE like those companies too. People in our team and the marketing division are about 20 people in total.
Takimoto (Mixi): The biggest reason we chose TUNE is that we can measure re­engagement. The second reason is that we can put the data into our system. We can access the data via the API from TUNE and we can examine it with the data along with other distribution channels.
Kashima (LINE): We have the same idea with Mixi in terms of the fact that we are not relying on agencies. LINE is making an effort to expand the business in Thailand, Taiwan, and Indonesia in addition to Japan. We have to build global and local apps. So it's good that we can discuss in the same language in single solution. TUNE has great language support.
How has TUNE contributed to your company growth and achievement?
Ikeda (GMO): After introducing TUNE, we pay more attention to ROAS. We can clearly see the numbers improved.
Takimoto (Mixi): From re-engagement campaigns, we can see a big improvement in sales and daily active users. So we want to do more optimization this year.
Kashima (LINE): We can see an improvement in daily active users, too. Now we can distribute to the channel of next­-day ­persistency ­rate. We can say it's an improvement.
Ikeda (GMO): Our business originally started on the web. Now that we track mobile app performance, we are discussing how much we'll pay for an ad on the web. Even over the last few months, we couldn't decide on priority between PC/mobile web or mobile app because the way of measurement is different from each other. However, I heard TUNE is launching measurement across mobile web and app, so it will be easier for us to do.
Kashima (LINE): All the members of the team can see the management screen. So each marketer can make the best decisions and they aren't be careless.
Our next destination: Postback
Be sure to join us for Postback in Seattle, July 21-22. 
Be Open. Be Social. Party! Postback is known as the mobile event of the summer — gathering the top mobile marketers in the industry for two full days of insights and networking that simply feels like a party. We are only selling 1000 tickets. Grab yours today!

Like this article? Sign up for our blog digest emails. 
Author
Becky is the Senior Content Marketing Manager at TUNE. Before TUNE, she led a variety of marketing and communications projects at San Francisco startups. Becky received her bachelor's degree in English from Wake Forest University. After living nearly a decade in San Francisco and Seattle, she has returned to her home of Charleston, SC, where you can find her enjoying the sun and salt water with her family.