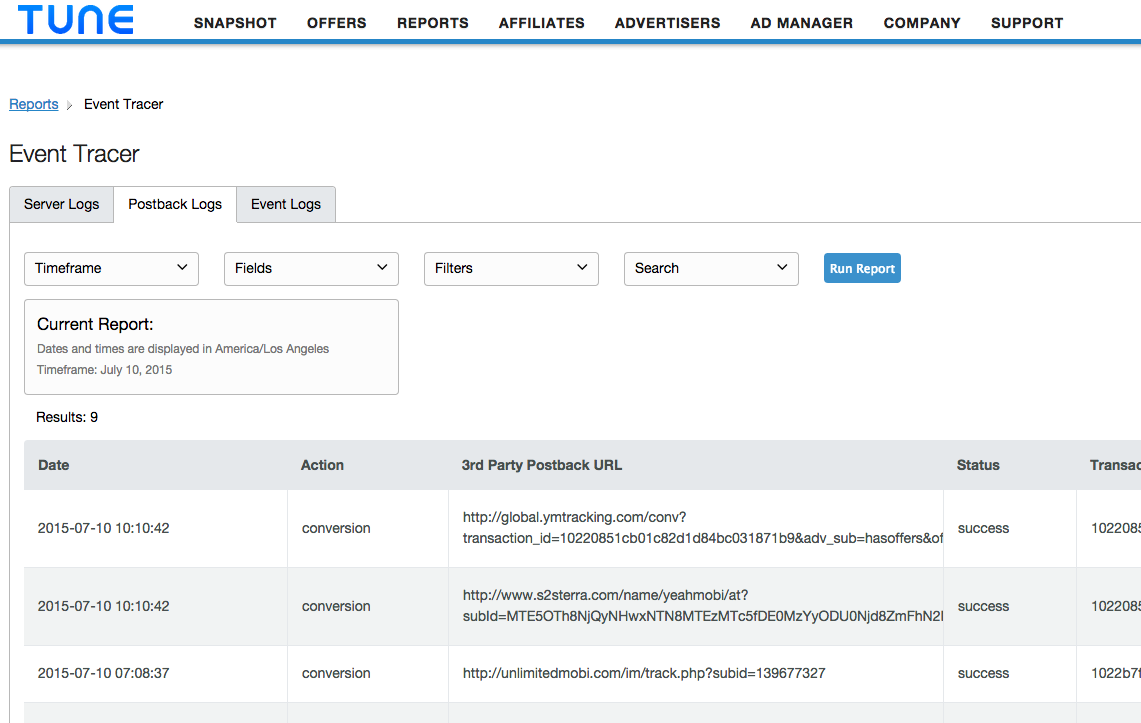 We are excited to announce Event Tracer, a new feature which allows super fast searching of server, postback, and event logs. Simplifying a once tedious process, Event Tracer makes troubleshooting much more efficient—saving a great deal of time.
Event Tracer consists of three modes:
Server Logs: server messages and notices, including error messages and redirect notices
Postback Logs: postback requests, both incoming and outgoing
Event Logs: impressions, clicks, and conversions
Event Tracer makes it simple to troubleshoot missing postbacks and stats discrepancies. For example, there may be an instance where the link is converting on your side, but the advertiser isn't seeing it. With Event Tracer, you can easily find the discrepancy. The search feature is very powerful, allowing you to simply type in a desired search entry within a field and receive all the results that contain that entry.
This week, all of our clients gained access to Event Tracer. So far, we have seen tremendous usage of this functionality and the feedback we've received has been extremely positive.
Gal Reisman of StartApp says, "Event Tracer has already saved us a lot of time and hassle. The Postback Logs feature enables us to troubleshoot conversion tests, shortening the campaign time to market."
If you haven't started using Event Tracer yet, we urge you go ahead a take it for a test drive. We have detailed support documentation to help you navigate, but please reach out to your Account Manager if you have any questions.
Have you started using Event Tracer? If so, we'd love to hear from you. Share your thoughts in the comments below!
Like this article? Sign up for our blog digest emails. 
Author
Becky is the Senior Content Marketing Manager at TUNE. Before TUNE, she led a variety of marketing and communications projects at San Francisco startups. Becky received her bachelor's degree in English from Wake Forest University. After living nearly a decade in San Francisco and Seattle, she has returned to her home of Charleston, SC, where you can find her enjoying the sun and salt water with her family.