Mobile advertising is already one of the busiest, fastest, and most changeable ecosystems in history. What happens when you throw a massive shopping holiday into the mix?
We wanted to know. So we studied 700 million ads on Black Friday and Cyber Monday.

Briefly, here's what we found:
Holiday advertising doubled
Cyber Monday saw 214% of the usual number of Monday ad impressions, while Black Friday had about 170% of its usual complement of advertising.

Top categories have 9X the volume of ads
On Cyber Monday particularly, marketers opened the floodgates for commerce ads, flooding mobile apps and the web with almost 9X more commerce ads than usual.

Clickthrough rates suffered in some categories, but not all


One challenge for marketers: It's not very exciting to show 200% more ads and get only 20% more clicks.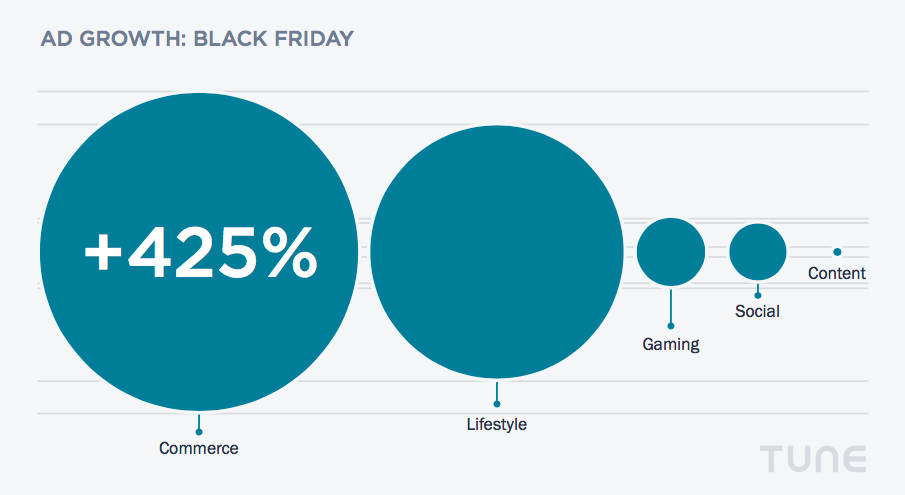 Other things the data show:
Mobile marketers need campaigns months ahead of big holidays
During the actual holiday time frame, some key categories saw install rates go down, such as commerce, gaming, lifestyle, and utility apps.

M-commerce apps are hitting headwinds
Commerce app install rates dipped significantly in 2015. In the 2014 holiday season, 2.8% of m-commerce app install ads that we tracked resulted in an app install … but reality is returning in 2015, as the rate dipped by half to 1.4%.
Complementary works as well as on-theme
For instance, gaming app publishers increased their spending on both Black Friday and Cyber Monday, adding an average of around 20% to their budgets on the holiday weekend.
Real life continues
Lifestyle marketers, who are always busy, broke the piggy bank on the holidays, pushing out a massive 278% more ads on Black Friday and 377% more ads on Cyber Monday.

Counter-cultural messages work
1.4 million people opted in to REI's #optoutside, and REI won press worth probably millions of dollars of equivalent adspend … while not discounting (which, as a premium retailer, isn't in their nature anyways).
Get the full report
The full report is freely available from TUNE. Since TUNE sees billions of ad events every single month, including app installs, brand ads, and performance ads, we're able to get a strong, nuanced, and balanced view of holiday marketing and what mobile marketers are doing to win.
Author
Becky is the Senior Content Marketing Manager at TUNE. Before TUNE, she led a variety of marketing and communications projects at San Francisco startups. Becky received her bachelor's degree in English from Wake Forest University. After living nearly a decade in San Francisco and Seattle, she has returned to her home of Charleston, SC, where you can find her enjoying the sun and salt water with her family.