During Postback'16 this past July, we made the exciting announcement that we were giving our TUNE Marketing Console Attribution Analytics customers the ability to see their return on ad spend (ROAS) with the launch of Multiverse. The response and positivity has been overwhelming. Today, we are thrilled to share that Multiverse is now available and FREE to all Attribution Analytics customers!
What is Multiverse?
Multiverse is designed to help marketers quickly determine and understand ROAS across all their channels — in one platform. It collects data from attribution providers, as well as from ad partners directly, then unifies the data to provide powerful ROAS reporting.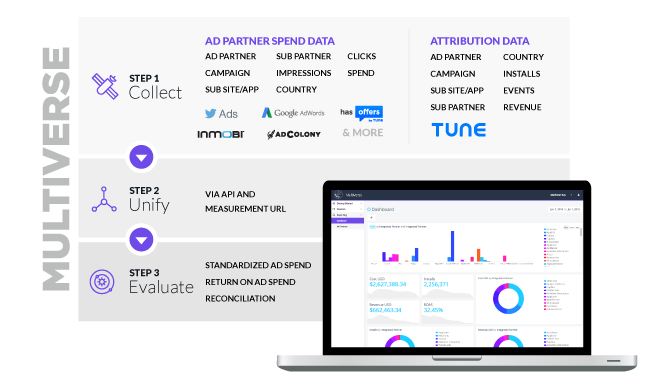 The missing piece for marketers
To measure ROAS, marketers have typically had the hassle of dealing with multiple spreadsheets and sources in order to consolidate data on their own, or had to rely on data aggregation platforms that use unreliable and probabilistic methods to match data sets. In contrast, Multiverse provides a much simpler way to reconcile the cost of marketing campaigns and the results collected from their web and mobile apps. Multiverse integrates hourly ad spend by ad partner and compares that data to attributed events and revenue, enabling more informed decisions about advertising budget allocation.
Currently, Multiverse is integrated with over 100 top advertising partners like Google AdWords, Twitter Ads, and more. The platform allows marketers to:
See their ROAS by ad partner and cohort — in one platform.

Reconcile ad partner reported installs versus TUNE attributed installs.

Export unified ad spend data into marketers' internal BI systems.

Leverage TUNE's relationships with ad partners to ensure accurate and granular ROAS.
How do I get Multiverse?
Multiverse is available to all TUNE Marketing Console Attribution Analytics customers. To gain access to your ROAS through the power of Multiverse, simply visit www.multiverse.com and click "Enter Multiverse" to get started.
If you use an alternate attribution provider, Multiverse will be available to you in the coming months. Stay TUNE'd!
Never miss a thing!
Want the goods delivered straight to your inbox?
Sign up for our blog recap emails to stay in-the-know about digital marketing, analytics, and optimization.
Author
Lucas and his twin brother Lee began their first businesses before starting high school in their hometown of Elma, WA. They quickly found this world suited them, launching other successful businesses in college and reporting their first million dollars in revenue as sophomores in their dorms. Developing unique solutions for their own ad network, Lucas had the foresight to white-label their technologies to empower other businesses, which quickly became the birth of TUNE. As Chief Product Officer, Lucas leads agile product teams that strive to quickly meet the needs of an ever growing client base. As a founder, Lucas and his twin brother Lee supported the company in the beginning, growing to profitability by 2010. Lucas' expertise in complex business models, integrations, implementations, and his constant drive for innovation make him a cornerstone of this Seattle based startup. Lucas graduated from Babson College in Boston, MA.