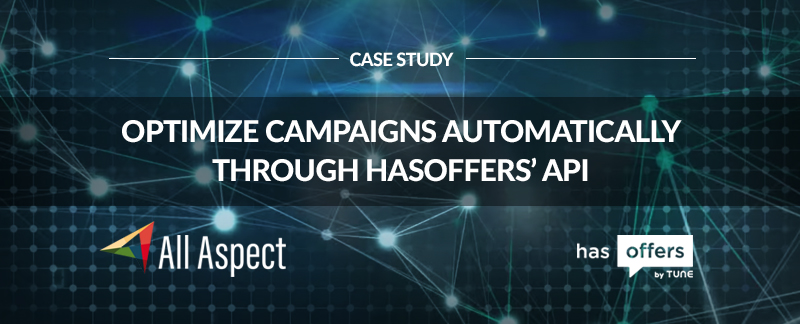 Growing a business in an exciting endeavor, however scaling teams and technologies can often  be a challenge. This is exactly what happened to AllAspect, a data-driven technology company that specializes in automation and business intelligence. As AllAspect  grew, they needed a platform to scale along with them; their account and campaign managers needed more support. In our newest case study, we unmask how AllAspect was able to seamlessly integrate app developers and numerous supply partners on different platforms with HasOffers.
Before coming onboard with HasOffers, AllAspect optimized campaigns manually, which used up more manpower and time that could have been better allocated elsewhere. By using HasOffers API and the AllAspect AI engine to optimize campaigns, they were able to:
Reduce fraudulent traffic by 80%

Integrate over 80 new supply partners and

Increase advertiser ROI by 30%

100% of new advertisers are optimized toward their key performance indicators
Find out how AllAspect used HasOffers to scale, increase customer loyalty, and bring in new business.

P.S. There's more performance marketing news and articles on the TUNE blog.
Never miss a thing!
Want the goods delivered straight to your inbox?
Sign up for our blog recap emails to stay in-the-know about digital marketing, analytics, and optimization.
Author
Anna is a TUNE content marketer and an MBA Candidate at the Michael G. Foster School of Business. She's also the mentoring and events manager for the TUNE House: scholars.tune.com. In her spare time you can find her reading (mostly fiction and business), biking, eating the great food around Seattle and traveling.