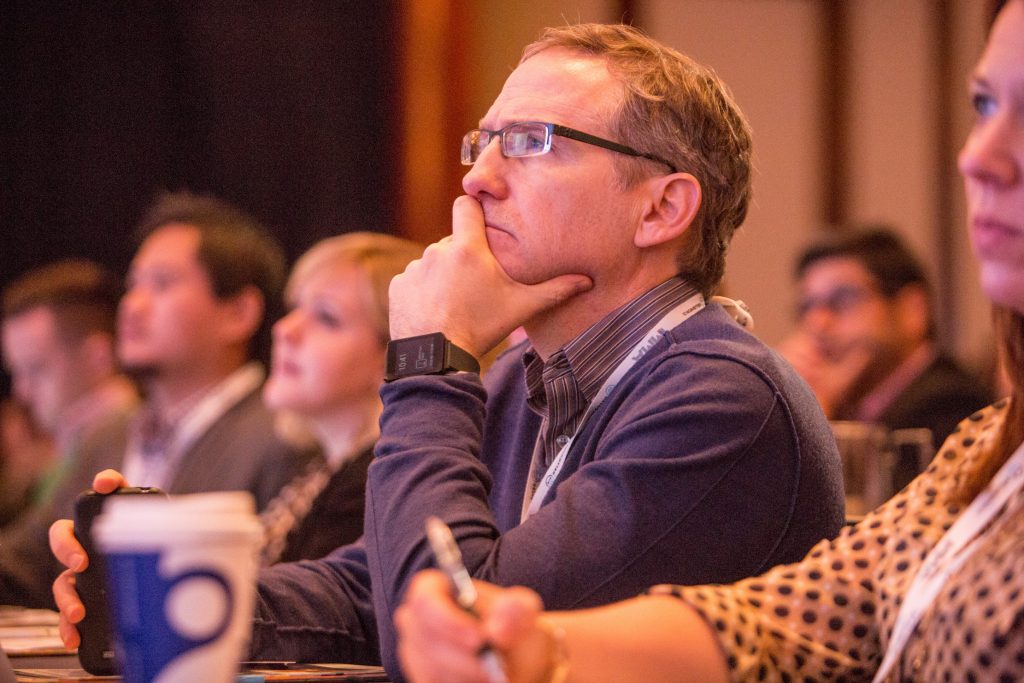 If a jam-packed mainstage agenda wasn't enough, we have breakout sessions that will make your trip to #Postback16 well worth it! This year's breakout sessions feature a little of everything — expert panels, workshops, and dynamic speakers you won't want to miss. Check it out:
All breakout sessions are held Thursday, July 21 with two sessions held during each timeslot.
10:00 – 10:45 a.m.
Your Audience is Here: What Savvy Mobile Marketers Need to Know About Programmatic (Norcliffe Room)
Mobile programmatic is often misunderstood — but it's become an increasingly important channel for marketers. In this workshop, we'll cover what marketers need to know to effectively leverage programmatic, including: finding their target audience on mobile, driving performance through the right ad formats, tackling inventory scale, and quality concerns, measuring campaign effectiveness, and defining what mix of partners is needed to best take advantage of this opportunity. See more information here!
Speakers:
Business Intelligence: Organized Chaos (Allen Room)
Ready to leverage your data to identify quality users? Maximize your marketing activity by identifying the KPIs that are most valuable to you. You'll hear unique perspectives from marketers who utilize platforms like TUNE Business Intelligence to make informed decisions to optimize and improve their ROAS.
Speakers:
11:00 – 11:45 a.m.
Kicking Mobile Performance into High Gear (Norcliffe Room)
With mobile now being the primary device for consumers, performance marketers must have strong mobile strategies intact. Panelists will share some of the latest tips and tricks on how they have been successful in this space and provide insight into the mistakes they've made along the way.
Speakers:
Mobile Loyalty: Here Today, Gone Tomorrow (Allen Room)
Acquiring mobile users isn't easy, and high churn figures undermine all of that hard, expensive work you've done to grow your app's audience. This collaborative discussion will look at commonly used on-boarding tactics and practical methods for measuring, maximizing, and optimizing user engagement post acquisition.
Speakers:
12:00 – 12:45 p.m.
Mobile Marketing Best Practices for Advertising Partners (Norcliffe Room)
As the market leader in establishing, communicating, and reporting on best practices, TUNE will share valuable guidance and insights to establish proper mobile marketing standards for marketing sources.
Speaker:
#TwitterTips: Driving App Growth and Re-engagement (Allen Room)
People come to Twitter in a discovery mindset — open to exploring new ideas, services, and products… including apps. In this interactive workshop, you'll learn how to use mobile app promotion from Twitter Ads to reach users who are eager to discover new apps like yours, while re-engaging your existing mobile audience. You'll walk away with actionable tips on how to set up, optimize, and scale your Twitter Ads mobile app promotion campaigns.
Speaker:
2:00 – 2:45 p.m.
Ad Blocking: The End of Mobile Marketing? (Norcliffe Room)
Ad blocking has the potential to disrupt the entire economy of the internet, and it's on the rise — especially for mobile. Join our panel of experts as they discuss some of the statistics around ad blocking, its impact on campaigns, and how marketers can still accomplish their goals.
Speakers:
Leveraging Data for Creative Ad Campaigns (Allen Room)
Everyone talks about data. Few know what to do with it. Our industry-leading panelists are all experts in how data can be harnessed to power creative, high-performing ad campaigns. Listen in as a leading media agency quizzes leading tech providers on how to turn data into marketing gold.
Speakers:
Get your #Postback16 Ticket
If you still haven't secured your Postback ticket, you only have a few days left to grab one of the last available spots. Don't miss out and what's sure to be the most talked about mobile event of the summer.
Author
Becky is the Senior Content Marketing Manager at TUNE. Before TUNE, she led a variety of marketing and communications projects at San Francisco startups. Becky received her bachelor's degree in English from Wake Forest University. After living nearly a decade in San Francisco and Seattle, she has returned to her home of Charleston, SC, where you can find her enjoying the sun and salt water with her family.