Google's enabling app discovery via mobile search. Apple's indexing apps for valuable content and functionality. And Google is testing streaming apps like movies, enabling use without downloads.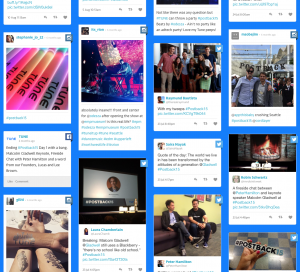 What's Happening?
Clearly, we're approaching an inflection point in the convergence of apps and web. And clearly, that's going to have massive ramifications for app marketers, developers, and publishers.
"At the highest level this will be a huge win for consumers," says Ian Sefferman, the general manager of TUNE's mobile marketing console. "It pairs the openness and connectedness of the web with the better and faster use experience of apps … which will simply be a better experience."
But, he cautions, it does mean huge changes for those who make — and market — apps.
Seamless Downloads
From a consumer side, this means that a web search for, say, "best Thai restaurant in San Francisco" can result in a deferred deeplink to an app. For argument's sake, let's say that's Yelp. You click right into the app without an install, directly into the correct screen for restaurants in SF, and dive into the experience of finding that ultimate place for tom yam goong while the app invisibly downloads in the background. If you like it and use it, you'll get the opportunity to approve an actual install.
From an app publisher/marketer/developer perspective, however, this changes everything.
Traditional app store optimization has been all about metadata — data about apps. Much of that is data that publishers themselves supply: name, description, keywords, and so on. Some of that data has been derived: searches, views, and downloads on Google Play and the iOS App Store. And some of that data has been user-generated: reviews and ratings by people who have installed the app.
All of this is metadata about the app, however, and not data from the app. And, not incidentally, it can all be gamed by unscrupulous publishers. Data companies supply about their apps is carefully chosen to increase downloads; some marketers are tempted to embrace the dark side in what they say. Install velocity can be gamed with judicious paid install campaigns. And user-generated data isn't always user-initiated.
ASO Is Becoming More Like SEO
Already today and increasingly in the near future, app indexing is making app store optimization more like search engine optimization. App discovery via search and app streaming are just adding fuel to that fire.
"It's not just ASO + SEO … it's a merging of web and app," says Sefferman. "Those terms will become less and less important over the next three to five years as the lines between mobile and desktop continue to blur."
The result, says Sefferman, is that app marketing and web marketing are beginning to merge, particularly with the adoption of universal links that work on the web, in apps, and to specific functionality within those apps.
"Marketers want to send people to the best content around with the greatest user experience available as fast as they can," says Sefferman. "If that's an app, then it's an app. If it's the web, then it's the mobile web."
The result is frictionless engagement with people, some of whom are prospects, some of whom become users, and some of whom graduate into customers. The focus is experience, ease, and results over method.
And, in the new app store optimization, platform owners like Google and Apple know what kind of engagement your apps are generating, because they're indexing inside apps and seeing content that people are engaging with — or not. Title, keywords, icon, and app images still matter, but increasingly engagement with and inside the app is becoming a positive ranking signal that will tell Google to show your app in mobile web search — or Apple to show your app in on-device universal search — when people search for content, experiences, or capabilities that exist inside your app.
The Implications Are Obvious
Low engagement, few active users, over-monetization, and immediate bounces are not just banes in the existence of web marketers. They're now things that app marketers need to think about too.
Sure, there's a game of thrones going on here. Sure, this re-web-ification of the app universe has benefits for Google.
"This is strategic for Google," says Sefferman. "Google has figured out intent better than anyone else. While Facebook has a great story to tell about demographics; Google has an amazing story about intent … which in the app ecosystem that intent has been obfuscated, and never been too granular. This opens up the floodgates for Google to get much more granular on intent."
But it's also something that key platform player Apple is doing, and Apple doesn't have a horse in the search game … or ad game since it announced that the iAd network will soon be shuttered.
The reason is that interlinking apps is good for user experience. And merging app and web functionality more seamlessly is a focus on ease of use for both.
This is, however, just the first step in a long journey for app marketers, says Sefferman.
"This can't totally change your day-to-day job right now," he says. "Much of it is just in testing, and some is Android only. We still have to see how this all shakes out. That said, app publishers will have to get smart about new things like Universal links, deeplinks, and app indexing. Big changes will be rolling out over the next 12-24 months."
Like this article? Sign up for our blog digest emails.
Author
Before acting as a mobile economist for TUNE, John built the VB Insight research team at VentureBeat and managed teams creating software for partners like Intel and Disney. In addition, he led technical teams, built social sites and mobile apps, and consulted on mobile, social, and IoT. In 2014, he was named to Folio's top 100 of the media industry's "most innovative entrepreneurs and market shaker-uppers." John lives in British Columbia, Canada with his family, where he coaches baseball and hockey, though not at the same time.