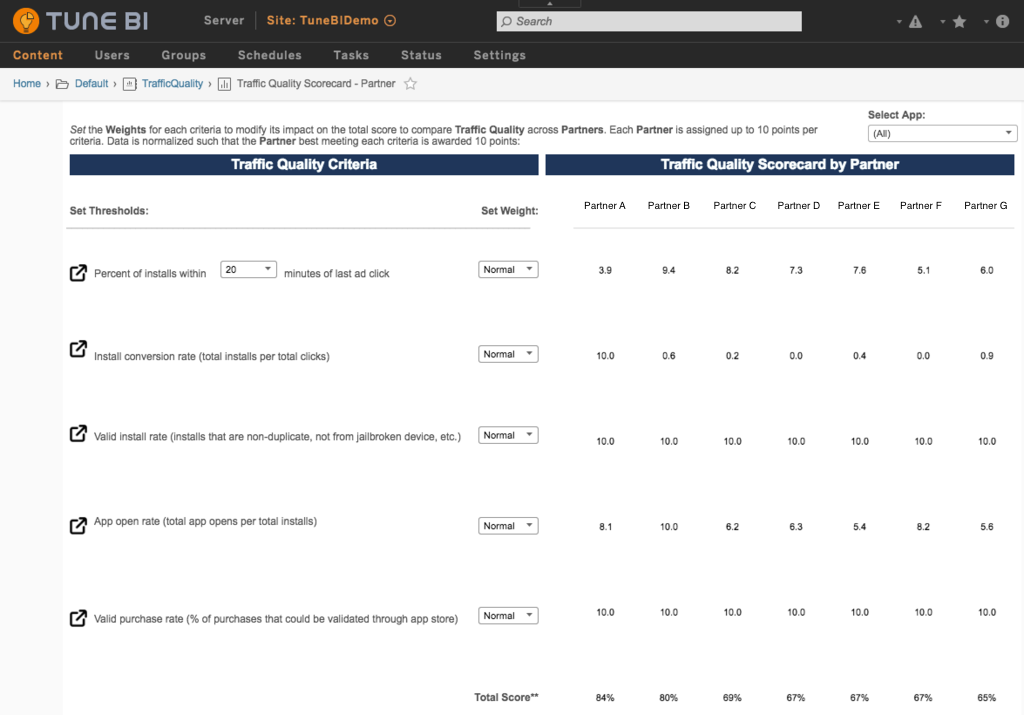 When it comes to the hot topic of traffic quality, TUNE plays a critical role in facilitating transparency between marketers and their ad partners. The powerful new Business Intelligence Traffic Quality Scorecard allows you to evaluate your partners' traffic quality using a combination of multiple user-defined, weighted criteria so you can more smartly allocate ad spend. This scorecard goes well beyond what TUNE's attribution competitors are able to assess when addressing the issue of "fraud". Criteria considered in the scorecard include:
Installs within X minutes of the last ad click

Install conversion rate

% of Installs that are approved (non-duplicate, not from jailbroken devices, etc.)

App open rate

% of Purchases that are validated (confirmed with the app store)
If you're a TUNE BI user, log into your account now to review your traffic quality. If you're not using TUNE BI yet, you can request a demo.
TUNE Business Intelligence Improves Geography Reporting

TUNE Business Intelligence's geography reports have been thoroughly rebuilt, giving you an easy way to zoom into geographical data about your highest and lowest value users, revenue, and more. 27 new dashboards covering five areas of analysis (engagement, retention, user acquisition, LTV, and re-engagement) allow global, regional, country, and zip code details to ensure you're optimizing your efforts. If you're a TUNE BI user, log into your account now to use the new geography reports. If you're not using TUNE BI yet, you can request a demo.
Mobile Event Creation in Attribution Analytics Now Easier

You can no longer create mobile app events in the Attribution Analytics UI; instead, events can now only be created through the TUNE SDK. And there's a good reason for this; this change will reduce confusion and save you time by eliminating mismatches between events created in Attribution Analytics versus the SDK. Events created through the SDK will show in the "SDK Event Name" column in the UI where you can edit event names to your liking. Read the technical documentation to learn more about how to add events. 
Test Different Ads Against the Same Segment to Show Lift

Every marketer wants to know an ad actually had the intended effect on its viewer. You now have the ability to divide Audience segments you've created into test and control groups to see how different ads affect conversion within a segment. You can distribute users between different ads and then export these user lists to your ad partners who can provide you with incremental lift resulting from specific ads. Read the technical documentation to learn how to create distributed lists or login to your account to start testing your ads. 
New TUNE Developer Hub Makes Developers' Lives Easier

A new developer portal with an improved user experience and features makes it much easier for your developers to work with TUNE's technology. Visit the new developer portal to experience the below features.   
Single resource for all developers building with TUNE technology (HasOffers

and

TMC)

Easily find content with developer-friendly tree navigation visible at all times

Shareable Builder Link allows developers to link directly to API calls with pre-populated data in the call builder

Quick Find Search functionality allows search within the contents of a bucket, e.g., Reporting API, and returns all results within the tree navigation

Preference auto-saving auto-populates API key and Advertiser ID in the API builder across all endpoints, removing the need to manually provide values each time

Improved SDK platform switcher shows which platform documentation you're viewing and adds the ability to easily switch between platforms
Take Advantage of the Latest TMC Functionality
Interested in what new functionality is available in the current TMC SDKs? View the change logs below to learn more.
Like this article? Sign up for our blog digest emails.
Author
This post was provided by a guest contributor. To check out posts by our most frequent authors, subscribe to our blog.