Allow me to introduce myself: I'm Ian Sefferman, Founder of MobileDevHQ, the leading solution for inbound app marketing. But this isn't just a guest post: Today, I'm incredibly excited to announce MobileDevHQ has been acquired by TUNE! Together, we aim to give mobile marketers increasing power and clarity to understand the full picture and impact of their mobile marketing efforts.

IT ALL STARTED WITH A PARTNERSHIP…
In April, MobileAppTracking (MAT) and MobileDevHQ (MDHQ) successfully launched a partnership which brought the best of both of our services together to provide unique and meaningful analytics and insights around an app's performance in app store search. This turned into one of the most loved–and most requested–features for both past and new customers of MDHQ and MAT.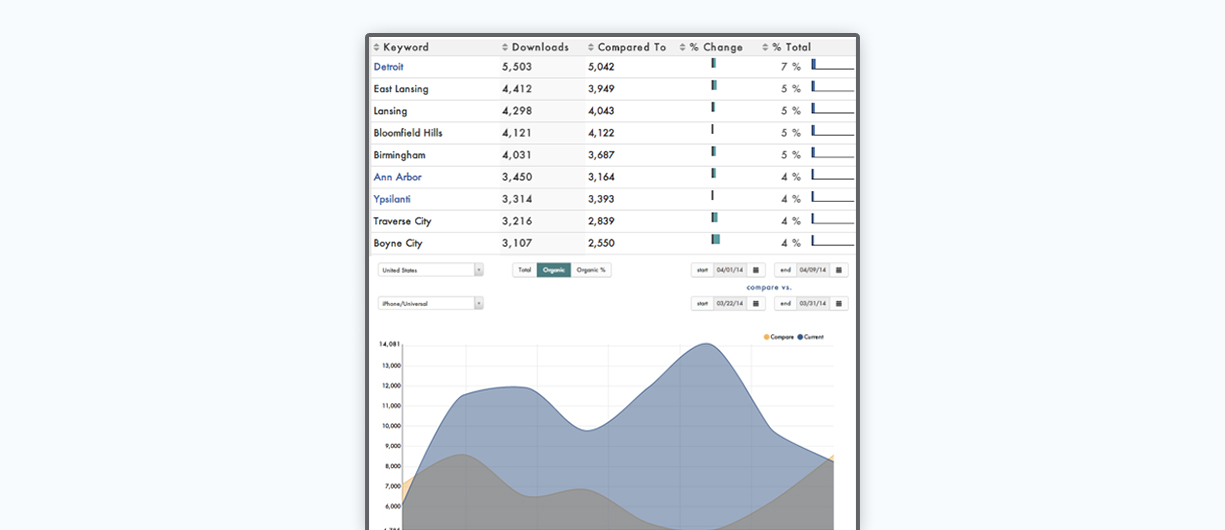 Suddenly marketers had a much more complete picture of their app marketing performance across all channels. As Chad McCollum, Senior Director of Mobile Marketing at GameHouse said at launch, "Understanding which keywords your app ranks highly for is great, but understanding which keywords are actually driving downloads is much more meaningful. Leveraging data provided by two world class platforms–MobileDevHQ and MobileAppTracking–will allow for more efficient and effective strategies for increasing downloads and maximizing revenue for our organization."
A mobile marketer's day can be spent analyzing a multitude of dashboards, sites, and apps. A separate dashboard to view paid user acquisition, a separate dashboard to view inbound analytics, a separate dashboard for competitive intelligence, a separate dashboard for re-engagement, and so on and so forth. Not a single marketer we've talked to about this has ever been happy about it. Plain and simple, it's just not a good use of our customers' time.
After the partnership began, it was obvious that the potential to do more together was much larger. Our customers recognize this potential, too. Michelle Felice-Steele, Director of Mobile Product Management for Experian Consumer Services, who has been using the partnership between MDHQ and MAT since its inception, commented, "This is exciting news. It'll be a great partnership and will mean a much more powerful suite of tools when the data between the two become further integrated."
TUNE has built an amazing organization and we are excited and proud to now be a part of it. Together, we're on a mission to support the mobile marketing ecosystem through a variety of tools, products, and platforms.
WHAT'S COMING FOR YOU, OUR CUSTOMER?
In the short-term, if you're a customer of either MAT or MDHQ, you don't have to worry about anything going anywhere. Both products will remain as they are and your day-to-day activities won't change. The MDHQ team is joining the MAT team in their Seattle headquarters and will run the newly formed Inbound division of TUNE.
Over time, we'll integrate the two products together to make your life easier and improve your marketing performance. Our goal is to provide amazing app store analytics, insights, and competitive intelligence to every app marketer, combined with the already great MAT attribution analytics.
GET IN TOUCH
If you're a MAT customer, but not a MDHQ customer, contact your MAT Account Manager to learn more. And, vice versa, if you're a MDHQ Enterprise customer, but not a MAT customer, let us know by contacting your Customer Success Manager and we can help you get integrated quickly.
If you're not yet a customer of either MDHQ or MAT (why not? 🙂 ), sign up for MDHQ for free, or contact our sales team directly with any questions.
ON A MORE PERSONAL LEVEL…
This acquisition marks the end of an era for myself, as the founder of a small startup, as well as our team. I'm incredibly proud of our team and what we've built, but more importantly, we're all delighted to be teaming up with TUNE and leveling up the service that we provide to our customers. I'm thankful to our employees, our investors, our customers, and our friends who have helped us get to the point where we can build even better tools for our customers.
Everyone on our team is passionate and dedicated to helping app marketers. We love this industry; it's innovative, fast-paced, and the people are genuinely nice. It's a pleasure to be able to work together with customers to build solutions that support the mobile marketing ecosystem.
Joining TUNE will only allow more of this. We can't wait to see what the future holds.
Author
As General Manager of the TUNE Marketing Console, Ian is responsible for building products that simplify app marketers' lives and increase their advertising performance across all channels, including paid, earned, and owned. Ian joined TUNE in 2014 through the acquisition of MobileDevHQ, the industry-leading inbound app marketing solution, where he was co-founder and CEO. MobileDevHQ was a member of the TechStars Seattle class of 2012 and Ian is still involved with TechStars as a mentor and investor. Prior to starting MobileDevHQ, Ian was a Software Engineer with Amazon.com on their Traffic, Personalization and Website Platform teams. A Detroit native and Seattle transplant, Ian studied Computer Science at the University of Chicago.