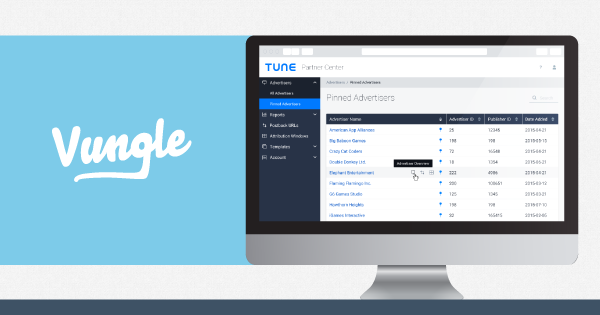 Company Overview
Vungle is a network that purely focuses on in-app video with direct supply that provides a way for developers to include videos for apps. Vungle's breakthrough video ad-serving technology and user-first approach has led to its track record of success, helping developers monetize their products quickly and easily. The company currently powers monetization for more than 15,000 of the world's top apps and shows more than 2.5 billion unique views every month. This also provides an attractive channel for marketers looking to find new users for their own apps.
Typical Partner Experience
Generally, when partners and marketers work together on a campaign, they are using a manual tracking link process—often fraught with errors and lack of visibility. Links can be miscopied, broken by email clients, or flat out wrong. The same goes for postback URLs. Campaign creative files are another pain point. They can get mixed up, deleted, and displayed incorrectly (or in the wrong size). While ad partners want to provide the best service they can, the disconnect with marketers can hold up the start of a campaign and lead to frustration on both sides.
To provide more transparency and relieve the common challenges associated with running mobile campaigns, TUNE created the TUNE Partner Center.
About TUNE Partner Center
TUNE Partner Center is designed for integrated partners to better communicate with their TUNE Marketing Console (TMC) marketers. The platform gives ad partners the ability to see campaign metrics the way marketers see them and provides ad partners with the tools they need to quickly gauge performance, troubleshoot setup issues, and effectively co-manage. By delivering ad partners direct insight into the campaigns their marketers are running, TUNE Partner Center allows them to complete tasks—such as view marketer postbacks and notice discrepancies—without having to wait for the data from marketers.
Vungle's Experience with the TUNE Partner Center
Vungle started using the TUNE Partner Center at its inception in 2014 and found that it has made it dramatically easier for them to work with their TMC marketer clients. Maurice Tasker, Lead Optimization Manager from Vungle said, "The solution helps us get on the same page with our marketers by expediting the campaign setup process. We now have the ability to access and view marketer postback setup, which is crucial for us. And, the ability to pull logs helps us charge marketers based on TUNE data, while keeping an eye on discrepancies."
Vungle uses the TUNE Partner Center to:
• Check marketer postback set ups (event & install).
• Change the postback template (event & install) or measurement template.
• Pull click, install, and postback logs.
• View their ranking compared to other ad partners.
• Compare discrepancies between their systems and TUNE's.
Results
Troubleshooting is a major reason why Vungle uses the TUNE Partner Center.
Tasker stated, "With the decrease in troubleshooting we now have with the TUNE Partner Center, we have more time to dedicate to our clients' campaigns. We use the marketer detail page to check that all parameter values are coming through as they should. The easy-to-access install and click logs help us find errors in URLs or postbacks. Whereas finding and solving discrepancies took several back and forth communications before, now we are able to identify the detailed page where discrepancies are occurring and solve them instantly."
Vungle agrees that the TUNE Partner Center has helped make troubleshooting much easier with TMC marketers. They estimate that the solution helps them cut troubleshooting time by 30%.
For more information or to become an integrated partner visit www.tune.com/partner-center.
Like this article? Sign up for our blog digest emails. 
Author
Becky is the Senior Content Marketing Manager at TUNE. Before TUNE, she led a variety of marketing and communications projects at San Francisco startups. Becky received her bachelor's degree in English from Wake Forest University. After living nearly a decade in San Francisco and Seattle, she has returned to her home of Charleston, SC, where you can find her enjoying the sun and salt water with her family.