The unknowns of mobile marketing continue to be the biggest roadblocks for opening up big advertising budgets. How valuable is an ad impression on that tiny screen, or with "fat finger" mistakes, what about a click? What should my CTR look like? What is a new app install worth to me, and what is my ultimate ROI? Acquisition based advertising (CPA) has been solving for this on the web for years, giving advertisers an option to pay for real sales, leads or actions that drive revenue. Re-Engagement is one way to bring that CPA world specifically to mobile apps.
Re-Engagement: Introducing CPA to Mobile Apps
A couple weeks ago I wrote an article for iMedia on How to Monetize Mobile App Re-Engagement, which talks about giving publishers and ad networks credit for in-app engagements they are responsible for. As the young mobile advertising industry finds its footing, advertisers and ad networks alike have been operating off of an app install economy, but marketers are already turning toward revenue attributable events like in-app purchases as a baseline for user acquisition.
This should sound pretty familiar to all you CPA, affiliate, and performance focused marketers out there who have been driving sales and leads down the purchase funnel for a decade. You've found that if you prove to an advertiser that you can send real purchases, they are willing to cut you in on the profits.
Tracking mobile app re-engagement is the beginning of bringing the true performance based world to mobile apps. Instead of giving the publisher responsible for an app install the credit for all future events generated by that user, app owners want to compensate those publishers, affiliates, or networks partners responsible for re-engaging the customer and sending them back into a mobile app to commit a purchase or other valuable engagement.
For example, let's say a user clicks on a banner ad for the latest hotel booking app. Perhaps they install the app but don't make a hotel booking. Later, while listening to music in their living room the user engages with a different ad on Pandora and notices they can get a free $25 credit. The user then clicks the ad and returns to the mobile app, this time making a purchase decision.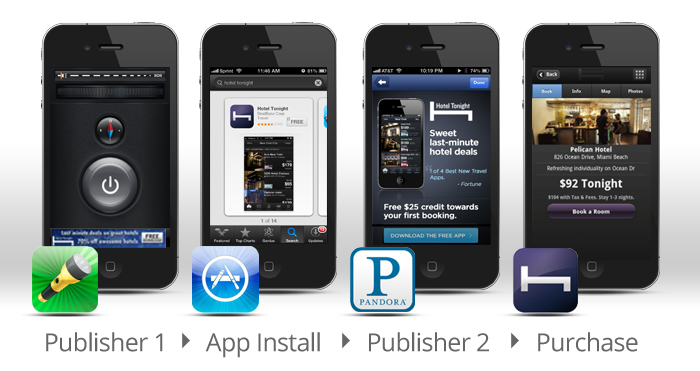 As you might imagine, this is extremely valuable for mobile app developers that are advertising for a utility style app that often stays on a users' device such as music, travel, sports, etc, but we've found it is just as exciting for mobile game developers where retargeting and re-engagement are the name of the game. Because mobile users interact with advertising in transit, between tasks, and in an infinite number of circumstances, it is actually very likely a user installs a game or app that they intend to play but never actually return to it. If a publisher can catch the users' attention again and remind them to return, that publisher should be rewarded. Especially if this user goes on to become an avid user of the game.
Re-Engagement can also play a critical role in mobile offer walls where app advertisers can incentivize purchases and in-app events rather than just app installs. Regardless of the quality of user being incentivized, this offer wall can be an extremely profitable channel if they commit a purchase decision.
Mobile App CPA for the Win
As a performance marketer, it is pretty exciting to see so much adoption for Re-Engagement events. Mobile-specific marketing teams seem to be much more demanding than their counterparts on the desktop web, requiring results driven data to support their campaigns. These marketers have skipped right over CPM based campaigns which ruled the web for a long time and are now expecting much more beyond clicks on ads as a measure of success. This makes me think that affiliate marketing and performance marketing has many of the answers to those mobile unknowns and thus a very bright future ahead.
Author
A digital marketer by background, Peter is the former CEO of TUNE, the enterprise platform for partner marketing. In 2018, he sold TUNE's mobile measurement product to Branch, unifying measurement and user experience. He led TUNE's efforts to bring better management technology and automation to marketing partnerships, across affiliates, influencers, networks, and business development relationships. Follow @peterhamilton